Seasonic M12 500W Modular Power Supply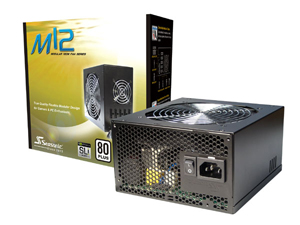 Seasonic M12 500W Modular Power Supply

Today I am taking a look at the Seasonic M12 500W power supply. The Seasonic M12 is the first modular power supply to be offered by Seasonic. Quiet, cool, stable and modular it has the potential to be a killer solution for use in a Home Theater PC. Let's find out how well it works…
Seasonic has been around since 1975 and originally entered the PC power supply market in 1980 to provide power supplies for both Apple IIs and IBM PCs. In 2003, Seasonic launched their first retail products to quite a bit of fanfare and has continued to innovate and deliver new products to market since. Their current line of full size ATX power supplies includes: the S12 (330W, 380W, 430W), the M12 (500W, 600W, 700W) and the S12 Energy+ (550W, 650W).
The M12 is the first power supply from Seasonic that supports modular cables. It is offered in 500W, 600W and 700W versions. The main cooling fan is a quiet 120mm fan. There is also an additional 60mm fan which is activated in extreme heat situations to provide additional cooling. On the next page we will take a detailed look at what comes inside the box and then later we'll see how the M12 performs in real world situation.
A First Look
A First Look
When I first picked up the box, it was surprisingly heavy. The box itself was very durable and sturdy. Upon opening the box, I found everything neatly placed and well packed. The power supply was well padded and wrapped in bubble wrap.
| | |
| --- | --- |
| | |
| Brand new Seasonic M12 in the box | Everything neatly and well packed |
| | |
| Power supply w/ Main Power, ATX and EPS attached | Included Cables (Molex, SATA, PCI-E & Floppy) |

Well, that covers the basics of what's included. Let's take a little bit closer look at the power supply itself and it's different aspects. Sadly, I don't have any pictures of the internals. I didn't crack the case open prior to installation.
| | |
| --- | --- |
| | |
| Here you can clearly see the internal 60mm fan. This fan is designed to only turn on in high temperature situations. The fixed cables on the left hand side are the main power, the ATX and the EPS cables. They are sleeved in a black mesh that is very clean and neat. In the lower left are two PCI-E connectors. They can be used to run a dual-SLI setup or just power two seperate graphics cards. The other 5 connectors in a column can be used for SATA, Molex and Floppy connections. | Nothing too exciting here. The unit is an 80-PLUS certified unit ensuring that it will operate at 80% efficiency or greater. For European considerations, the power supply is also RoHS compliant. If you click on the thumbnail above you'll get a closeup and you'll be able to read all the details and examine how the 500 watts is provided to the different rails. |
| | |
| Here's a close up shot of the honeycomb structure that is used for the rear venting of the PSU. This has become a fairly commonly used venting configuration. It is supposed to provide quieter airflow with less turbulence. The unit is 100~240V compliant. So just connect a power cable and you are good to go. | The inclusion of the additional 60mm fan makes the larger than many other power suplies. As you can see above the power supply requires an additional 10mm of clearance in a PC case. For many this will not be an issue. However, for me it caused quite a bit of consternation. It just didn't fit….. |
That's the Seasonic M12 from almost every angle. I'm going to quickly run through the specifications and then we'll take a look at the installation of the Seasonic M12 and how it performs in a real world environment.
Features and Specifications
Let's take a quick look at the features and specifications. If you've been looking at the M12 you've probably seen all this before.
Features
Performance
High Reliability Aluminum Electrolytic Capacitors
Super High Efficiency [up to 85%]
Active Power Factor Correction [99% PF]
Flexibility
Detachable Modular Cables
Universal AC Input [Full Range]
3 Year Warranty
Special Features
Super Quiet Dual Fan Cooling [120mm & 60mm ADDA ball bearing fans]
Smart and Silent Fan Control
Soft-Mounting Rubber Cushions
Ultra Ventilation [Honey Comb Structure]
Specifications
1. AC input & DC output voltages ( 100~240V, 50/60Hz )
2. Total Protection – Over Voltage / Over Power / Short Circuit Protection – Total protection for your power supply, your system and yourself.
3. Operating Environment Operating temperature: 0 to 50°C. Relative Humidity: 20% to 80%.
(The rated power will reduce from 100% to 80% from 40°C to 50°C)
Shipping / Storage temperature: -40°C to 85°C Relative Humidity: 10% to 95%
4. MTBF Typically over 100,000 hours at 25°C under full load, excluding the DC fan.
5. Includes:
Power Supply w/ 120mm Fan and 60mm Fan
1 Main Power 24/20-pin cable (permanently attached)
1 ATX 12 Volt 4-pin cable (permanently attached)
1 EPS 12 Volt 8-pin cable (permanently attached)
2 Molex x3 4-pin cables (modular)
2 Molex x2 4-pin cables (modular)
2 SATA x2 cables (modular)
1 SATA x4 cable (modular)
2 PCI-E 6-pin cables (modular)
1 Molex 4-pin to Floppy 4-pin x2 cable
Power Cable
Case Badge
Instruction Manual and RMA Instruction Card
4 Screws
Installation and Cabling
Installation and Cabling
You would think installing a new power supply would be a piece of cake. Unfortunately the Seasonic M12 is about 10 mm deeper than most power supplies due to the addition of the 60mm emergency fan. In most PC cases the added depth would not be an issue. I ran into trouble since my HTPC case, the Accent HT-400, has a tray that the power supply sits in which was too small. This issue would probably also be found in a Zalman HD135 case as it shares a similar design.
Here's what I did to remedy the situation: Using a Dremel to Mod Your Case
Once the issue with the tray had been addressed, I got down to installing the power supply. Here's a look at the M12 installed in my case.
Finally, after the dremeling, I've rebuilt my HTPC and the M12 is sitting comfortable in the newly modded tray.
Now I've attached all the power connectios in my pc. With the vast array of cables provided I was able to use a combination of cables that provided exactly the number of conenctions I needed.

From a different angle. The black mesh sleeving keeps
the cables neat and tidy. With no extra connectors, I
was able to keep the amount of extra loose wiring to a
minimum and tuck the extra out of sight.
Subjective Testing and Conclusions
Subjective Testing
At this point the question on your mind may be, how does the M12 run in a real world environment? Instead of looking at voltage readings and efficiency graphs, I am going to share my experiences and impressions from using the Seasonic M12 in my daily use Home Theater PC. For the last month, the Seasonic M12 has been running my HTPC non-stop. During that time the machine was allowed a couple of nights at the beggining of February to be turned off and cool down so that the Artic Silver would set properly. Since then the HTPC has been running 24/7. For posterity, I've included my system specifications below.
Case: Accent HT-400B
Motherboard: DFI NFII ULTRA INFINITY
Processor: AMD Athlon XP-M 2400+
RAM: OCZ EL 3200 2x256MB
Video Card: Sapphire Radeon 9800Pro w/ Arctic Cooling VGA Silencer Rev 3.0
Hard Disks: 3 Samsung SP160 3.5" Hard Drives
Heatsink: Scythe Kamakaze 2
Case Fan: Panaflo L1A w/ Zalman Fanmate
PVR Cards: Hauppauge PVR-500MCE, DVICO Fusion5HDTV Lite
Networking: Linksys Wifi-G WMP54G
DVD-ROM: Samsung DVD-ROM/CD-RW
While not the most powerful PC, it was beginning to require more power than my prior Seasonic Super Silencer 350W had to offer. A 430W PSU may have been sufficient, but I decided that long term a 500W would be a safer bet should I make significant upgrades. The Seasonic 80-plus power supplies are highly efficient across the range of wattages they provide so I was not concerned about my PC not pulling enough power to operate the PSU at an efficient level.
Performance-wise the Seasonic M12 blew me away. It was significantly quieter than my prior Seasonic, which used only an 80mm fan. It generates almost no noise at all. There was no clicking, or whirring or high pitched whines, just the gentle whoosh of air that was faintly audible if I held my head to the case with the cover off. In addition to being nearly silent, the Seasonic M12 increased the airflow in my case enough that I was able to ratchet down drastically the fan speeds of both my CPU fan and my Case fan. In order to maintain stable temperatures before both fans had been running between 2100 and 2200 RPM. After installing the the M12, I was able to reduce the fan speeds of the CPU and Case fans to the 1800 RPM range and still see a 2~3 degree temperature reduction when using Prime95 to burn in the CPU. There was no real change to idle temperatures. Installing the M12 has been one of the best additions to my HTPC. In one fell swoop it reduced my CPU temperatures and reduced the overall noise of the case by allowing me to reduce the speed of other smaller and louder fans.
Note: While I have not experienced this, there are reports that once the 60mm fan turns on it will not turn off unless you turn off the computer. It will not ramp back down once cooler temperatures are achieved. I have not been able to personally verify this as I have not been able to get temperatures in my power supply high enough to enable the 60mm fan. Personally, I don't consider this too much of an issue as in the case of my PC overheating I would most likely shut the PC off anyways.
Conclusions
The Seasonic M12 was an excellent addition to my Home Theater PC. It has provided stable power without issue. The power supply itself is nearly silent and greatly increased the airflow in my PC case. A multitude of varied modular cables are included and allowed for the neatest wiring job my PC has yet had. Overall, it was an excellent addition to my PC. My biggest issue is the addition of the 60mm fan. This increased the size of the PSU beyond normal ranges and created a situation where I had to either mod my case or return the power supply, which was frustrating to say the least. I'd also like to see the issue with the 60mm fan not ramping down after the computer returns to normal operating temps addressed. For the price of this PSU, one of the more expensive 500W models on the market, I don't think it is too much too ask. Despite these minor shortcomings, I am extremely pleased with the performance, quality, stablity and near silent operation of the power supply. In these respects it has been nothing short of stellar.
Pros: Nearly Silent, Runs Cool, Modular, Quality Sleeving and Quality Construction
Cons: Price, Odd Size, 60mm Fan Speed Control