LG @ CES 2013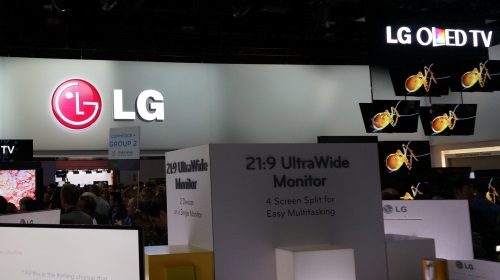 If you follow displays, you already know that there were myriad UHD and OLED TVs at CES 2013. LG had both, but they had one over on all the other OEMs because they are the only ones that can claim to be shipping 1080p OLED displays. Now they haven't made there way over here yet (should be in March sometime), but you can buy one in Korea right now if you have the cash.
OLED
I was unimpressed with OLED last year, but this go round it looked really, really good. Of course we'll have to wait for some reviews before calling it since no one put their TV into anything close to optimal viewing conditions. Assuming it does well, you can have a 55″ from LG for ~$10K in a few months. LG was also showing a curved OLED display, no word on when or how much for that guy though.
"HECTO" 100″ Laser TV
I was very excited about this short through laser DLP projector when LG announced it just before CES. Much of that dissipated when I found out how much they want for it; ~$10K as well. Yeah it's a 100″ screen (dark grey if your asking), and yeah it can work from 22″ out, but seriously this is a 3D lacking 1080p DLP without the shell. No thank you.
UHD/4K
I went through LG's booth early, so it was impossible to get up close to the 4K TVs for pictures. They looked good (although not as nice as Sony's), but it was great to see passive 3D that actually looked decent too; the best I've seen actually.
Google TV
LG was back with another display with Google TV built in. The remote is pretty cool, and Plex is still there so at least there's that :).