Tiger Direct: Build Your Own PC Race for Charity Race Results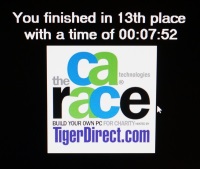 I didn't win (came in 13th) Tiger Direct's charity PC building race but it was a blast trying to put the finishing touches on a system in the shortest time possible. Frankly I'm shocked at how fast the winner finished his (3 minutes, 53 seconds), but you can be sure that I'll be back next year (assuming they'll have me) to try to better my time and hopfully put Missing Remote on the leader board :).
Full PR on the click through.
 TIGERDIRECT.COM DONATES THOUSANDS TO CHARITY AT THE 15TH ANNUAL "BUILD YOUR OWN PC RACE" DURING THE 2013 CONSUMER ELECTRONICS SHOW


This year's race featured an entertainment packed event as guests witnessed Benjamin Heide of BCCHardware.com set a new record for fastest time, earning $10,000 for charity


Las Vegas, NV (Tuesday, January 15, 2013) – On January 8, 2013 TigerDirect.com, a subsidiary of Systemax, and Intel hosted the 15th annual "Build Your Own PC Race for Charity" at the Wynn Resort Las Vegas during the 2013 Consumer Electronics Show. This year Benjamin Heide of BCCHardware.com broke the PC Build record for fastest time, beating out his 28 competitors, assembling his computer in 3 minutes and 53 seconds. On his behalf, TigerDirect is donating $10,000 and the hardware package valued at over $2,500 to Alberta Children's Hospital Charity in Calgary, Alberta.

The 2013 Build Your Own PC Race Event was bigger and better than previous years, attracting a record number of attendees.  For the first time in its 15 year history, TigerDirect held two separate PC Builds during the event: The traditional "Charity PC Race" for journalists and the 1st Annual National Consumer PC Race Finals.  10  racers from across the country who placed 1st and 2nd at regional competitions were flown in to Las Vegas to compete in the National Finals Round.  Contestants for the two races were tasked with assembling PCs in the fastest time.

In addition to the races, guests were treated to a variety of floor acts with jugglers, contortionist and acrobats during the first hour of the event, then two high energy, interactive performances by Recycled Percussion, the avant-garde performance band and finalists on NBC's America's Got Talent.

15th Annual Charity PC Race Winners:

First Place: Benjamin Heide of BCCHardware.com: $10,000 donation to Alberta Children's Hospital Charity in Calgary Alberta

Second Place: Robert Squires of Fudzilla.com: $2,500 donation to Mendenhall Middle School

Third Place: Nathan Edwards of Wirecutter: $1,000 donation to Doctors Without Borders

*All the equipment from the racers goes to each participant's charity of choice

1st Annual Consumer Build Your Own PC Race National Finals Winners:

First Place: Andrew Snyder of Delaware: $1,000 donated to the winner's charity of choice and a $1,000 TigerDirect gift card

Second Place: Ryan Hoenga of Miami: $500 donated to the winner's charity of choice and a $500 TigerDirect gift card

Third Place: Ramsin Gabriel of Chicago: $250 donated to the winner's charity of choice and a $250 TigerDirect gift card

*All racers in the consumer race will receive their PC and hardware package

Various leaders in the technology industry sponsored the Charity PC Race and Regional Consumer Finals including title sponsor Intel, AMD, Trendnet, Kingston, HP, Western Digital, Square Trade, Logitech, Microsoft, Seagate, Envision, Samsung, iBuy Power, Coolermaster, Thermaltake, NZXT,  Trendnet,  Targus, Razer, LG, and AOC.

About Systemax Inc.: Systemax Inc. (http://www.systemax.com), a Fortune 1000 company, sells personal computers, computer components and supplies, consumer electronics and industrial products through a system of branded e-Commerce websites, retail stores, relationship marketers and direct mail catalogs in North America and Europe. The primary brands are TigerDirect, MISCO, WStore and Global Industrial.


About TigerDirect: For over 20 years, TigerDirect (http://www.tigerdirect.com) has served the needs of both personal and business computer users, selling consumer electronics, computers, digital media technology and peripherals via catalog, business to business, and Internet channels. TigerDirect is a subsidiary of Systemax Inc. (NYSE: SYX).