Roku Queues Up Three, Announcing VUDU Support, Streaming Stick Availiability and App Update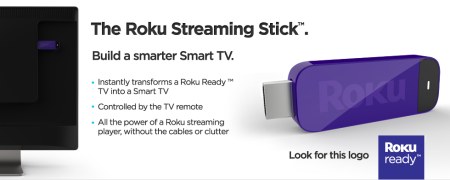 I've been looking forward to Roku's Streaming Stick since they first mentioned it back at CES. Of course the specifics around pricing and how long we'd have to wait were unknown, but today that changed a little with Roku announcing that the MHL enabled streamer would be available "soon" at $99. The lack of a clear when is a little disappointing, but for those who like instant gratification VUDU has finally made it's way to the platform – HUZZAH! – and they've updated the mobile application. Who knew that today would be media streamer day :), full PRs after the click.
UPDATE: Not sure why this wasn't included in the PR, but the Streaming Stick will support 1080p24 (24p) from VUDU. Unfortunately the current generation boxes don't :(.
Roku Launches Roku Streaming Stick and Unveils First Roku Ready Devices

Televisions from Apex, Hitachi, Insignia Coming to Retailers Soon


SARATOGA, Calif. – Sept. 20, 2012 – People looking to stream video and music as well as play casual games on the television can soon choose from a range of devices that feature the popular Roku® streaming platform. Roku today announced that the Roku Streaming Stick™– a tiny wireless streaming player the size of a USB flash drive – will be available in October for $99.99. Customers plug the Roku Streaming Stick into Roku Ready® devices to instantly access the Roku platform which features more than 600 channels.

The first Roku Ready devices hitting store shelves this holiday season are televisions from Apex Digital, Hitachi and Insignia, a Best Buy brand. Consumers can look forward to the following models:

Apex Digital 32" LED model LE3243R, 39"LED model LE3943R, 42" LED model LE4243R and 46" LED model LE4643R
Insignia, a Best Buy brand 46" model NS-46E480A13A and 55" model NS-55E480A13A
Hitachi 42" models LE42S606 and LE42T506, 46" models LE46S606 and LE46T506; and 55" models LE55S606, LE55T506 and LE55U516

"The Roku Streaming Stick extends our platform beyond the set- top box and into a range of consumer electronics devices. Manufacturers can now deliver a complete streaming experience without painstakingly building it themselves," said Chas Smith, senior vice president and general manager, Roku platform OEM business at Roku. "And because the Roku Streaming Stick will only get better over time – with more channels, new features and frequent software updates – customers can be confident that they will always enjoy the best possible streaming experience."

The Roku Streaming Stick, when purchased separately and not bundled with a device, comes with a Roku enhanced remote which features volume buttons and motion control for game play. While the enhanced remote is needed for games that require motion control, consumers can alternatively use the television remote to control their Roku experience when the Roku Streaming Stick is paired with a Roku Ready TV.

Roku Ready

Roku Ready products are MHL-enabled consumer electronics devices that are certified by Roku to work seamlessly out of the box with the Roku Streaming Stick. These products display a distinctive Roku Ready logo on their packaging so consumers can easily identify them for use with the Roku Streaming Stick. In addition, select devices will be bundled with the Roku Streaming Stick in retail channels. Roku is working with many consumer electronics manufacturers to bring Roku Ready devices to market. Roku Ready partners announced to date include Element Electronics; GlobalVue International, LLC; Haier; Hitachi America, Ltd.; Insignia, a Best Buy brand; Mitsubishi Electric (TVs); Onkyo and Integra; OPPO and TMAX Digital, Inc.(Apex Digital® TVs).

Pricing and Availability

The Roku Streaming Stick will be available for $99.99. The Roku Streaming Stick will be available from Roku and Amazon in October and from other retailers this fall. For more information about the Roku Streaming Stick visit www.roku.com/streamingstick.

About Roku Inc.

Roku is the leading dedicated streaming platform for delivering video, music and casual games to the TV. Roku launched the first player to stream Netflix to the TV in 2008, and today the Roku platform streams more than 600 channels to millions of devices in the U.S., Canada, U.K. and the Republic of Ireland. Roku was founded by Anthony Wood, inventor of the DVR. The company is headquartered in Saratoga, Calif. For more information, visit www.roku.com.

Roku and Roku Ready are registered trademarks and the Roku Streaming Stick is a trademark of Roku, Inc. in the United States and other countries, and all other trade names and logos used herein are registered trademarks or are trademarks of their respective owners.

###
VUDU Launches on Roku Streaming Platform

Industry-leading video-on-demand service with the world's largest selection of HD movies and TV Shows Now Available to Roku Customers

SANTA CLARA, Calif. and SARATOGA, Calif., – Sept. 20, 2012 – VUDU and Roku® today announced the launch of the VUDU streaming channel on the Roku platform. VUDU is Walmart's subscription-free, video streaming service which offers more than 100,000 new releases, Hollywood classics, independent films and TV shows, and was recently ranked as the top streaming video service by Consumer Reports *. Available now on all Roku 2, Roku HD (model 2500) and Roku LT streaming players in the U.S. and coming to the Roku Streaming Stick in October, VUDU offers the world's largest selection of HD movies and delivers a cinema-like experience with vibrant-streaming 1080p HD and rich Dolby Digital Plus 5.1 and 7.1 surround sound. Movies on VUDU are available the same day they are released to DVD or Blu-ray, and can be purchased or rented without a subscription.


"We're committed to offering customers access to their favorite movies and TV shows at the highest possible streaming quality wherever they choose to watch them," said Prasanna Ganesan, general manager and CEO of VUDU. "Our launch on Roku today allows us to offer our entire catalog on the most popular streaming player on the market."


"With its impressive library of a la carte movies and TV shows, and high quality surround sound features, VUDU is a great addition to the Roku streaming platform," said Anthony Wood, founder and CEO of Roku. "The ability to instantly watch the latest Hollywood releases is certain to make the VUDU channel a big hit among Roku customers."


The Roku streaming platform features more than 600 channels of entertainment from some of the best brands in on-demand television. The award-winning Roku players are recognized for their ease of use, selection of content and affordability. Roku players start at $49.99 and are sold by retailers nationwide.


* Consumer Reports (Video Streaming Services, July 2012)


About VUDU

A leader in HD streaming, VUDU offers the world's largest selection of HD movies, including thousands of blockbusters, Hollywood classics and indies available in stunning HDX 1080p with Dolby Digital Plus 5.1 and 7.1 Surround Sound. Movies are available the same day they are released on DVD or Blu-ray, and can be rented or purchased without a subscription. VUDU is available on Internet-capable HDTVs and Blu-ray Disc players from FUNAI Electronics (Magnavox, Sylvania), LG Electronics, Mitsubishi Digital Electronics, Panasonic, Philips, Samsung, SANYO, Sharp, Sony, Toshiba and VIZIO, and on the PlayStation®3 computer entertainment system from Sony. VUDU is a wholly owned subsidiary of Walmart Stores, Inc., and is headquartered in Santa Clara, CA. For more information, visit http://www.vudu.com/.

About Roku, Inc.

Roku is the leading streaming platform for delivering video, music and casual games to the TV. Roku launched the first player to stream Netflix to the TV in 2008, and today streams more than 600 entertainment channels to millions of customers. Roku streaming players can be purchased from Roku and major retailers in the U.S., Canada, U.K. and the Republic of Ireland. Headquartered in Saratoga, Calif., Roku was founded by Anthony Wood, the inventor of the DVR. For more information, visit www.roku.com.

###
Roku Announces Mobile App Updates; Introduces Play on Roku

'Play on Roku' Lets Customers Stream Photos and Music from iOS or Android Mobile Devices to Roku Streaming Players

SARATOGA, Calif. – Sept. 20, 2012 – Many Roku® customers take photos and download music on smartphones or tablets for easy access anytime, and anywhere. For these customers, Roku today announced updates to the Roku mobile app that include Play on Roku, a feature that allows customers to stream photos and music from a mobile device wirelessly to a Roku streaming player. The Roku mobile app –­­ which essentially turns a smartphone or tablet into a Roku remote control – is now also available in all countries where Roku players are sold, including the U.K., Canada and Ireland.

Photos streamed on TV using Play on Roku can be viewed individually using a swiping gesture on the mobile device, or in automatic slide show mode. When music is streamed using Play on Roku, a screen saver with the song title, artist, album name and cover art will appear on the TV while the song plays. Photo slide shows can also be viewed with music streaming at the same time. Play on Roku is compatible with MP3 and M4A audio files and JPG and PNG image files.

"For most people, mobile devices are an extension of their lifestyle – they use their smartphones and tablets for almost everything, including capturing photos and curating music," said Jim Funk, senior vice president of product management at Roku. "With this in mind, we wanted to provide a mobile experience that gave customers different ways to enjoy their photos and music, while getting even more value out of their Roku players."

With the Roku mobile app, customers can control their Roku player without using the included IR remote. Additionally, customers can:

Assign names to Roku players
Instantly replay favorite movie moments
Quickly add and remove channels
Control and switch between multiple Roku players
Enter text easily with the included keyboard feature

Available for iOS and Android mobile devices, the Roku mobile app can be downloaded for free from the iTunes App Store or Google Play. Play on Roku works with all Roku 2, Roku LT and Roku HD (model 2500R) players today and will work with the Roku Streaming Stick, expected to ship in October.

About Roku Inc.

Roku is the leading dedicated streaming platform for delivering video, music and casual games to the TV. Roku launched the first player to stream Netflix to the TV in 2008, and today the Roku platform streams more than 600 channels to millions of devices in the U.S., Canada, U.K. and the Republic of Ireland. Roku was founded by Anthony Wood, inventor of the DVR. The company is headquartered in Saratoga, Calif. For more information, visit www.roku.com.

Roku and the Roku logo are registered trademarks of Roku, Inc. in the United States and other countries.


###