NETGEAR Announces Updated NeoTV Media Streamers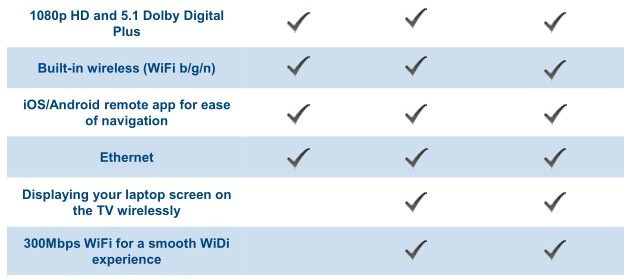 Features like VUDU and HDMI CEC put the first generation NETGEAR NeoTV on my short list of preferred media streamers. But while they have continued to update the device at a breakneck pace, the lack of 5.1 audio in the Netflix application was a pretty big CON. Fortunately this gap will not only be rectified in the NeoTV (NTV300), NeoTV PRO (NTV300S), and NeoTV MAX (NTV300SL) models set for release at the end of September, but also available to the existing players in the same timeframe. Of course this is not the only feature bumped on the spec sheet with support for 24p output, an updated remote, VUDU 3D (MAX only), underside QWERTY remote (MAX only), Netflix "Just for Kids", WiDi/Miracast (PRO/MAX) and HTML5/HLS applications also coming – enabling faster, more capable experiences, from new content providers as well as an open SDK for enthusiasts (available later this year). Coming in at $50, $60, $70 the new NeoTVs are also priced very competitively in this space – click through for more details, photos, and the official PR.
We're working on getting a review unit, but on paper the NeoTV MAX looks like the clear winner considering the $20 difference between it and the NeoTV is only $20, and that gets you 300Mbps v. 150Mbps WiFi (helps with range even if not caring about WiDi), DLNA, USB, VUDU 3D, composite analog outs, and the dual-sided QWERTY remote (worth the $20 on its own IMO). Each of the NeoTVs use a MediaTek SOC; MTK8633 in the NTV300 and NTV300S and the slightly faster MTK8656 in the NTV300SL. I was hoping to find out more about the capabilities of these chips, but the MediaTek website doesn't even list them.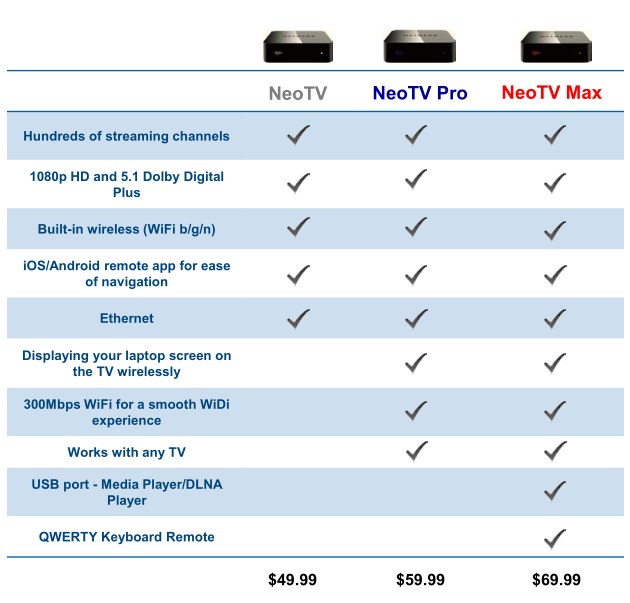 NETGEAR UNVEILS NEOTV STREAMING PLAYERS THAT ARE SMARTER THAN YOUR AVERAGE SMART TV

Three new streaming players offer 1080p HD, built-in WiFi, Intel WiDi, access to personal media and hundreds of popular streaming channels including Netflix, Hulu Plus, Vudu and many others

SAN JOSE, Calif. – September 20, 2012 – NETGEAR®, Inc. (NASDAQGM: NTGR), a global networking company that delivers innovative products to consumers, businesses and service providers, today announced a new family of next-generation streaming players that deliver a superior connected home entertainment experience. The three new NETGEAR NeoTV® Streaming Players are among the first to support the HTML 5 standard, which is rapidly being adopted by content providers as the ideal method for streaming entertainment into homes. The new NeoTV Streaming Players use HTML 5, HLS, and digital rights management tools like Microsoft PlayReady® to provide access to hundreds of HD streaming channels and a variety of entertainment features that offer an outstanding home theater experience for consumers.

The new NETGEAR streaming players are perfect for upgrading standard TVs to smart TVs. Additionally, if you are unsatisfied with the content availability or ease-of-use of your smart TV, NeoTV will broaden your access to content and features apps that turn smartphones into remote control devices to simplify finding and playing content.

The streaming players – NeoTV (NTV300), NeoTV PRO (NTV300S) and NeoTV MAX (NTV300SL) – are perfect for streaming thousands of movies, TV shows or songs from Netflix, Vudu, Hulu Plus, YouTube, Best Buy CinemaNow, Pandora, Rhapsody and many other channels to your big screen TV in full 1080p HD and 5.1 Dolby Digital Surround Sound. All three streaming players offer flexible Internet connectivity through built-in WiFi or a wired Ethernet connection. Each streaming player includes a remote control featuring one-touch Quick Start buttons to ensure easy access to your favorite streaming channels like Netflix, YouTube and others. An optional free remote control app is available for download from Google Play® or from the Apple App Store. The app turns an Apple® iPhone®, iPad®, iPod® Touch, Android® smartphone or tablet into a simple touch screen remote control for any of the NeoTV Streaming Players.

According to a study by Parks Associates, the percentage of connected device owners going online every month to watch streaming movies and TV shows grew nearly 20% from the third quarter of last year to early 2012. NeoTV Streaming Players feature higher performance processors for faster navigation and support for HTML5 streaming channels, providing a rich, interactive and dynamic streaming experience. These enhancements strongly position the NeoTV Streaming Player line to take advantage of the rapid growth in web-based content delivery.

In addition to the streaming channels and all the NeoTV (NTV300) features, the NeoTV PRO (NTV300S) is still the first streaming player to offer Intel® Wireless Display (WiDi), which allows you to wirelessly display your laptop screen on your TV in up to 1080p full-HD video

resolution and 5.1 Dolby Digital Surround Sound. If you have a compatible Intel WiDi laptop, you can now wirelessly display videos, photos, music or any website on a big screen TV, instead of watching it on the small laptop screen. The NeoTV PRO also brings smart TV capabilities to virtually any TV by offering an AV port that enables the NeoTV PRO to be connected to older TVs that do not have HDMI ports.

The NeoTV MAX (NTV300SL) takes the connected home theater experience a step further – beyond the capabilities of most existing smart TVs. In addition to all of the NeoTV and NeoTV PRO features, NeoTV MAX offers the ability to play personal media from external hard disk drives, USB drives and DLNA media servers. NeoTV MAX enables you to enjoy your favorite home movies, view photos from your vacation, or listen to songs directly on your TV. The NeoTV MAX also comes with a premium remote control with simple navigation buttons on one side and a full QWERTY keyboard on the other, so you can easily type in the titles of the videos, movies or songs you are searching for. In addition, with the NeoTV MAX Streaming Player you can now enjoy 3D streaming movies from Vudu on your 3D capable TV for an immersive, connected entertainment experience.

"NeoTV Streaming Players offer a variety of entertainment features to meet every consumer's need, whether you are a novice at streaming movies or someone who wants an advanced experience like wireless display or playback of personal media," said Damir Skripic, product line manager for connected entertainment at NETGEAR. "NeoTV lets you stream your favorite TV shows like 'Modern Family' on Hulu Plus, listen to Maroon 5's songs on Pandora, or watch 'The Hunger Games' on Vudu–all on your big screen TV in HD for an ideal connected home entertainment experience."

As an added bonus – from now until December 31, 2012 NETGEAR NeoTV, NeoTV PRO and NeoTV MAX will include select content from Disney's "Wreck-It Ralph," a hilarious arcade-game-hopping adventure in theaters Nov. 2, 2012. NETGEAR is also introducing a nationwide sweepstakes for an amazing movie-fan prize pack –enter for a chance to win a trip for four to Los Angeles for a tour of Walt Disney Animation Studios and four tickets to a theatrical release of every Disney movie in 2013! No purchase necessary to enter or win. Open to US residents, 21 and older. Void where prohibited or restricted. Starts 9/15/12 and ends on 12/31/12. Visit netgear.com/disney to enter and for complete rules.

Pricing and Availability

The entire NETGEAR NeoTV Streaming Player line is available in the United States beginning September 20, 2012 for purchase at major retailers and online. The NeoTV Streaming Player (NTV300) is priced at USD $49.99. The NeoTV PRO Streaming Player (NTV300S) is priced at USD $59.99, and the NeoTV MAX Streaming Player (NTV300SL) is priced at USD $69.99.

To learn more about the NeoTV Streaming Players and other NETGEAR connected entertainment products, please visit http://www.netgear.com/stream.

About NETGEAR, Inc.

NETGEAR (NASDAQGM: NTGR) is a global networking company that delivers innovative products to consumers, businesses and service providers. For consumers, the company makes high performance, dependable and easy to use home networking, storage and digital media products to connect people with the Internet and their content and devices. For businesses, NETGEAR provides networking, storage and security solutions without the cost and complexity of big IT. The company also supplies top service providers with retail proven, whole home solutions for their customers. NETGEAR products are built on a variety of proven technologies such as wireless, Ethernet and Powerline, with a focus on reliability and ease-of-use. NETGEAR products are sold in approximately 32,000 retail locations around the globe, and through approximately 42,000 value-added resellers. The company's headquarters are in San Jose, Calif., with additional offices in 25 countries. NETGEAR is an ENERGY STAR® partner. More information is available at http://www.NETGEAR.com or by calling (408) 907-8000. Connect with NETGEAR at http://twitter.com/NETGEAR and http://www.facebook.com/NETGEAR.

1Intel® WiDi requires an Intel® Wireless Display enabled PC, NETGEAR NeoTV PRO or NETGEAR NeoTV MAX and a TV. 1080p HD resolution is available on second-generation Intel® Core™ processor-based PCs with built-in visuals enabled. Consult your PC manufacturer. For more information, see http://www.intel.com/go/widi.

ABOUT Disney's Wreck-It-Ralph

Walt Disney Animation Studios and Emmy®-winning director Rich Moore (TV's "The Simpsons," "Futurama") take moviegoers on a hilarious, arcade-game-hopping journey in "Wreck-It Ralph." Ralph (voice of John C. Reilly, "Talladega Nights: The Ballad of Ricky Bobby," "Step Brothers") is tired of being overshadowed by Fix-It Felix (voice of Jack McBrayer, "30 Rock"), the "good guy" star of their game who always gets to save the day. But after decades doing the same thing and seeing all the glory go to Felix, Ralph decides he's tired of playing the role of a bad guy. He takes matters into his own massive hands and sets off on a game-hopping journey across the arcade through every generation of video games to prove he's got what it takes to be a hero.

On his quest, he meets the tough-as-nails Sergeant Calhoun (voice of Jane Lynch, TV's "Glee") from the first-person action game Hero's Duty. But it's the feisty misfit Vanellope von Schweetz (voice of Sarah Silverman, "The Sarah Silverman Program") from the candy-coated cart racing game, Sugar Rush, whose world is threatened when Ralph accidentally unleashes a deadly enemy that threatens the entire arcade. Will Ralph realize his dream and save the day before it's too late? "Wreck-It Ralph" crashes onto the big screen on November 2, 2012, in Disney Digital 3D™ in select theaters.

© 2012 NETGEAR, Inc. NETGEAR, the NETGEAR logo and NeoTV are trademarks or registered trademarks of NETGEAR, Inc. in the United States and/or other countries. Intel and Intel Wireless Display (WiDi) are trademarks or registered trademarks of Intel Corporation or its subsidiaries. Apple, iPad, iPhone and iPod Touch are registered trademarks of Apple Inc. Android and Google Play are trademarks of Google Inc. Microsoft PlayReady is a registered trademark of Microsoft Corporation in the United States and other countries. Other brand and product names are trademarks or registered trademarks of their respective holders. Information is subject to change without notice. All rights reserved.

Safe Harbor Statement under the Private Securities Litigation Reform Act of 1995 for NETGEAR, Inc.: This press release contains forward-looking statements within the meaning of the U.S. Private Securities Litigation Reform Act of 1995. Specifically, statements concerning NETGEAR's business and the expected performance characteristics, specifications, reliability, market acceptance, market growth, specific uses, user feedback and market position of NETGEAR's products and technology are forward-looking statements within the meaning of the Safe Harbor. These statements are based on management's current expectations and are subject to certain risks and uncertainties, including, without limitation, the following: the actual price, performance and ease of use of NETGEAR's products may not meet the price, performance and ease of use requirements of customers; product performance may be adversely affected by real

world operating conditions; failure of products may under certain circumstances cause permanent loss of end user data; new viruses or Internet threats may develop that challenge the effectiveness of security features in NETGEAR's products; the ability of NETGEAR to market and sell its products and technology; the impact and pricing of competing products; and the introduction of alternative technological solutions. Further information on potential risk factors that could affect NETGEAR and its business are detailed in the Company's periodic filings with the Securities and Exchange Commission, including, but not limited to, those risks and uncertainties listed in the section entitled "Part II – Item 1A. Risk Factors," pages 45 through 63, in the Company's quarterly report on Form 10-Q for the fiscal quarter ended July 1, 2012, filed with the Securities and Exchange Commission on August 8, 2012. NETGEAR undertakes no obligation to release publicly any revisions to any forward-looking statements contained herein to reflect events or circumstances after the date hereof or to reflect the occurrence of unanticipated events.

# # #