Microsoft Releases Kinect Nat Geo TV and Kinect Sesame Street, Hires Former CBS President for Original Xbox Video Content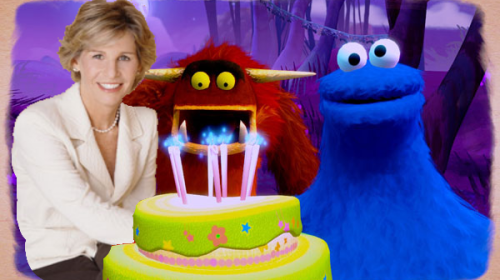 Microsoft has been busy over the last year revamping the Xbox 360 interface to make way for the Xbox Live TV initiative that has seen dozens of new streaming media services added to the Xbox dashboard. Even as Microsoft was looking to use a Metro-flavored UI to turn the Xbox into the center of living room entertainment, Microsoft was starting to look forward to the future of television on the Xbox. Today, two aspects of that future vision took big steps forward.
First up, we have the move toward interactive television. Back in October, Micorosft held a press conference to take the wraps off a project intended to change the nature of watching television on the Xbox 360 by showing off versions of Sesame Street and National Geographic that children could not only watch, but interact with through the use of Kinect. It took 11 months, but Kinect Sesame Street and Kinect Nat Geo TV finally launched today for $29.99 each. In addition to the episodes and clips that come on the disc, you receive a one year Season Pass for new episodes and clips.
I have to say though, the best part about the game was living as an animal. Each video has a set of mini-games (which can be selected and all played from the main menu) where you become the animal and have to perform general survival tasks. Kinect does a good job here not going nuts when someone walks behind you (as in many other Kinect games) and keeping your animal facade on. Whether it be bears, owls, wolves, rams, panthers or wolverines, your head and arms become that of the animal.
The other aspect of Microsoft plans that moved forward today was the company's ambition to begin producing original video content for Xbox Live. The last we had heard of the project, Microsoft was supposedly talking up some former NBC executives, but Microsoft must have realized that anyone who helped steer that ship aground was probably not a good bet, so instead the company has hired Nancy Tellem, former president of CBS Network Television Entertainment Group. As the newly christened Entertainment and Digital Media president, Tellem has been charged with overseeing the launch of a production studio in Los Angeles to focus on creating content for the Xbox.
"I look forward to building a studio team that embraces the challenges of creating true interactive content that the Xbox platform supports and to work with talent to create content that will change the way entertainment content is experienced and delivered," Tellem said in the press release.

"We are embarking on a new chapter with the creation of a studio dedicated to making original interactive and linear content, and I'm excited to have Nancy leading this effort," Microsoft corporate VP Phil Spencer also added.