Hulu Plus, MAX Go, and HBO GO for iOS Add Closed Caption Support, Hulu Plus Overhauled for Playstation 3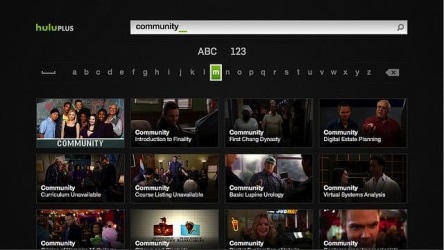 The big iOS news of the week may have been Apple's iPhone 5 announcement and the opening of the preorder floodgates, but some big names in the streaming media business have been sneaking around releasing updates to their apps. The Hulu Plus, MAX GO, and HBO GO iOS apps have all received updates to offer support for closed captions. That this feature is only just coming to these mobile apps surprises me, even leaving aside the obvious issue of accessibility for the hearing-impaired. For one thing, these companies already deal heavily in closed captioned content, Hulu on their website, and Cinemax and HBO through their cable channels, so the need for support in their apps should not have been a surprise. On top of that, watching streaming media on a mobile device seems far more likely to put one in a noisy situation where one would desire captions to supplement the audio. Hopefully the other mobile platforms will be seeing similar updates soon.
In a move that should please the hard of hearing and anyone trying to watch a video quietly sans-headphones, the Hulu Plus, HBO Go and Max Go apps for iOS devices have all recently been updated with support for closed captions.
Hulu wasn't devoting all of their attention to their iOS app this week. The Hulu Plus iOS update comes with more than just closed captioning support, but it is not nearly as radical an update as the Playstation 3 got his week. The Hulu Plus app for the Playstation 3 received a significant overhaul that fundamentally changes the browsing interface, slims down and simplifies the playback controls, and offers improvements to search to make accessing results easier. The greater emphasis on artwork certainly helps to make the new interface pretty, as well.
We've implemented a tray-style format that allows you to scroll through recommendations based on your viewing history, or check out popular shows and movies, the top 100 clips on Hulu Plus, movie trailers and more. We've also included a "Shows You Watch" feature that highlights the content you regularly enjoy, and lets you jump straight to the latest episode.