Xigmatek Gigas SFF Case Reviewed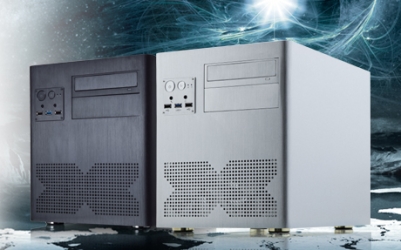 Xigmatek is a name I have seen associated with power supplies and CPU coolers at various times, but evidently they make a mean small form factor case, as well. Now, to be fair, small is a relative term to apply to the Xigmatek Gigas. As far as SFF cases goes, the Gigas is rather beefy, but with support for Micro-ATX motherboards, 2 5.25″ slots, 6 3.5″ internal hard drive slots and 2 2.5″ internal hard drive slots, there is a whole lot to like for anyone looking to go cube with their next media server build. Just be sure to keep one of your PCI Express slots open. The tricky part will be finding a Micro-ATX or Mini-ITX motherboard that can power all those drives without adding a controller card. The option to mount 4 120mm fans is also a nice touch for those in need of some serious cooling power, though having the front fans mount horizontally and the rear fans mount vertically might be a turn-off for those who prefer a little symmetry in their airflow.
The Xigmatek Gigas is an all-aluminum Micro-ATX small form factor chassis with a stylish, brushed aluminum finish in either Silver or Black. From the exterior, the Gigas appears deceptively small for a Micro-ATX case. Inside, the Gigas packs many unique and industry leading performance features.