Hulu Web Video Player Gets Overhaul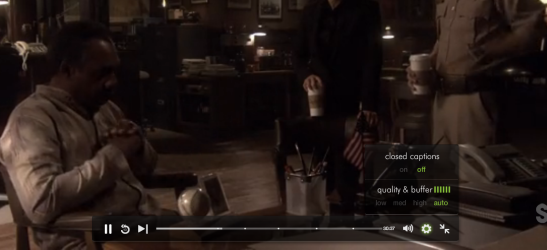 These days, it seems like the only time we hear from Hulu is when they are announcing some new content deal or when Hulu Plus comes to a new device, but Hulu isn't giving their website visitors short shrift as evidenced by the freshly overhauled video player that the company has recently launched. The sleek new video player strips away all of the old player's chrome and brings up the player controls, media details, and access to the player settings and Hulu features such as Face Match as an overlay. The new player also adds an option for auto-adjusting the video quality and a 10-second rewind held in cache. Given how often I find myself wanting to skip back and review a missed line, this sort of scrubless video rewind is something I would love to see come to more online video players.
The new player groups all of a video's settings — facial recognition, closed captioning, and the like — all in one place, and the player automatically detects and adjusts video quality based on the available bandwidth. And when you pause a video, the player highlights program and episode information, along with how much time is left in the show or movie you're watching.