AverMedia Announces AverTVBox PVR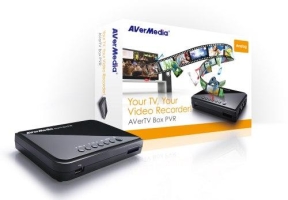 AverMedia visited Computex this year with a new product, the AverMedia AverTVBox PVR. The AverTVBox PVR is a bit of an oddity, though I suppose I can see where it might serve a certain niche market. It is a standalone PVR/DVR. It records directly to a connected USB hard drive and accepts analog cable connections or analog settop box connections. There's no mention in the press release of EPG or IR blaster capabilities, so it sounds like direct control recording and manual scheduling is the order of the day.
The box can record to separate USB devices and output with analog VGA or RCA composite to a monitor or TV. While it appears to be SD-only, if your 20-year old Zenith wants to get in on some PVR time-shifting, it might have found a new best friend.