Q1 2012 Streaming Media Services Comparison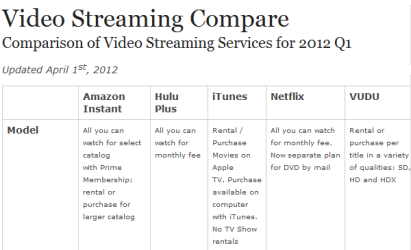 Our friends over at Tech of the Hub have posted the Q1 update to their comparison of major streaming media services for 2012. Unsurprisingly, all of the major services have continued to grow their catalogs, but there are a couple of interesting changes that might signal the beginning of an unsettling trend for fans of unlimited streaming services like Netflix and Amazon Prime. Both services lost movies since the last comparison at the end of 2011, Amazon particularly so, but both services still managed to grow their catalogs by adding TV content. At the same time, Amazon's movie rental and purchase catalog continued to grow. Obviously it is easy to read too much into a single quarter's worth of data, but it may be worth keeping an eye on.
The video streaming comparison has been updated for the first quarter of 2012! The chart compares paid premium video streaming services including Amazon Instant Video (and Prime), Hulu Plus, iTunes, Netflix and VUDU. Besides contrasting the features and capabilities of the services, the matrix also shows how many movies and TV shows were available on each service during the last week of March 2012.