Xebec Tech iTouchPad Diamond Keyboard Reviewed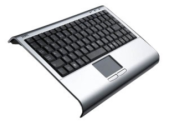 I'm always on the lookout for keyboards with integrated mouse control that might be suitable for use in the living room. The Xebec Tech iTouchPad Diamond caught my attention in part because I had not heard of Xebec Tech before. It sounds like they have put together a solid keyboard and touchpad with the iTouchPad Diamond, though the form factor might not be for everyone. I like the look of it, but I'm not convinced that it would be comfortable in the lap. I do like the use of a nano receiver. If you are putting your HTPC in a cabinet, it can be advantageous to put the wireless receiver in a front USB port to improve reception and the smaller the receiver, the less likely it is get bumped or broken.
Xebec Tech have incorporated Soft Touch Membrane technology into the itouchpad diamond which gives you a silent strokes across the low profile keyboard keys that gives a tactile feel when being pressed. With claims of approx; 5 million strokes per key which would suit fine for any Digital Living Rooms HTPC environment, conference or presentation etc.