Patriot Javelin S4 Media Server Reviewed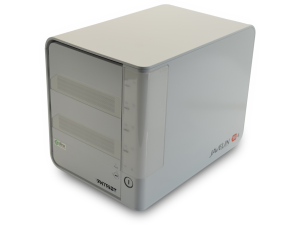 Network attached storage is getting to be an essential component of a modern home network. If you are looking to go the NAS route rather than the home server route, you might want to check out the Patriot Javelin S4 Media Server. The Javelin S4 is a 4-bay unit capable of supporting up to 12TB in a variety of different RAID configurations. These rebranded Promise units do support plugins, but from the sound of things there is a pretty limited community so I wouldn't count on seeing the kind of extensions that some NAS units such as the ReadyNAS receive, but the Javelin S4 is DLNA certified and comes with integrated backup software and BitTorrent client. More importantly, it seems to be priced right if you are simply looking for a basic NAS box.
If you have a lot of digital media, such as music, videos and photos, then Patriot claims they have a perfect solution for you. With room to accommodate four 3.5-inch hard drives and additional external expansion via USB 2.0 and eSATA ports, the Javelin S4 can pack up to 12TB of storage capacity into a small form factor chassis.