Xbox 360 Metro UI Goes Live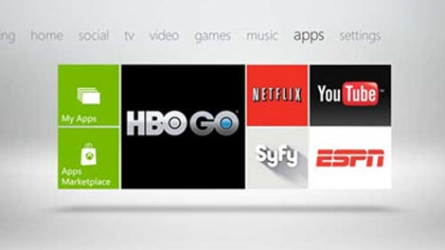 It's been two months since Microsoft got official about their plans to bring more television and media services to the Xbox 360 along with a revamped Metro-style user interface. Microsoft has started rolling out the update, the most extensive Xbox 360 makeover since the NXE update in the fall of 2008. The visual appearance of the new UI is striking, though it will quickly become apparent to longtime Xbox 360 owners that the two most important category changes are the new Bing category and the overhauled Apps category.
The Xbox 360 has allowed Kinect owners to control the system with voice commands for some time, but the integrated Bing services extend this functionality by providing a central interface for searching for apps and media by voice or text and providing direct access to every part of the system. Over in the Apps category, the previously available media provider apps such as Hulu and Netflix are still available and have been joined by a handful of new apps such as EPIX and SyFy, with more coming over the next month. The big change here is the Apps Marketplace and attendant framework. The Apps Marketplace not only brings all of the Xbox apps and services together in one place, but will undoubtedly be the mechanism by which Microsoft will continue to add services to the Xbox and expand the system as a platform in the broader Microsoft ecosystem.
I've been playing with the new interface for a few weeks and have been generally pleased with how it exposes content, though I am interested in seeing how the apps evolve over time. With so few new apps, it is still too early to gauge. What are your thoughts on the new UI and apps?
So, why all the excitement over a relatively minor update? This year's Dashboard update includes a major remaking of the system's underpinnings, one that enables future content updates that are indeed actually very interesting. And starting in late December, not this week, numerous hardware partners will begin offering a wide range of TV and entertainment content though the console, though again the selection varies depending on where you are and—more troubling—on which content partners you already have relationships with.