VIA Writes the Book on Mini-ITX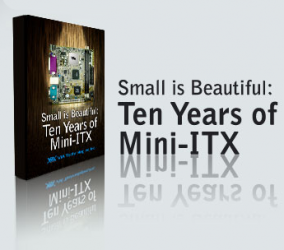 VIA Technologies developed the Mini-ITX format 10 years ago and it quickly became the preferred platform for modders the world over. In celebration of the 10 year anniversary of the launch of the platform, VIA has self-published an e-book titled "Small is Beautiful: 10 Years of Mini-ITX" detailing the development of the platform and highlighting some of the best Mini-ITX mods of the last 10 years. Flipping through the virtual pages was a trip down memory lane. I was a huge fan of the Humidor PC and the Millennium Falcon PC, the latter of which was also the PC that introduced my kids to the concept of modding. My most rewarding computer build was my first Mini-ITX system that I built into the drawer space of a cabinet desk. I've never really done a whole lot of other modding, but every so often I get an itch to mod my primary HTPC into a "hiding in plain sight" system similar to some of the ones highlighted in VIA's e-book. Anyone have a fantastic Mini-ITX or HTPC mod to share?
It's hard to believe, but it's been a whole decade since VIA created the Mini-ITX form factor with the launch of its Mini-ITX VT6010. The rest is ongoing history, but what's really cool is how VIA is celebrating the occasion.