Samsung HW-D550 Virtual Surround Speaker Bar Reviewed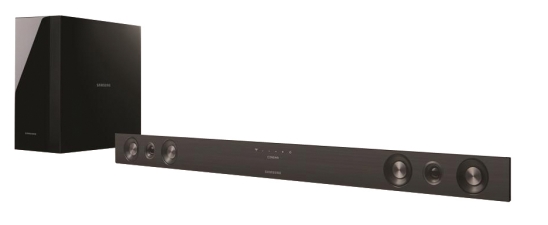 There was a time when I wouldn't have given a speaker bar a second look, but I know the quality of these speakers has improved over time and there are times and places where full surround sound speaker sets just do not work out. Samsung has a package that they would like to pitch for those times and places with the HW-D550. It packs both a speaker bar and a wireless subwoofer to help round out the sound. Unfortunately, it looks like Samsung is using some funny math to reach their specs on this kit, particularly the subwoofer. I know that these kind of devices are not aimed at the most tech and spec literate markets, but it is always unfortunate to see a manufacturer allow the marketing department to fiddle with the numbers on what might otherwise be a solid product.
The HW-D550 is billed as a "compact speaker solution", but it comes in a box that is about as long as a TV; but only about 33% as tall. I was very curious as to why, then when I opened it up, I realized they needed a long box to hold and protect the sound bar style speaker and some size to fit in the sub-woofer.