Hitachi Joins the 4TB Fray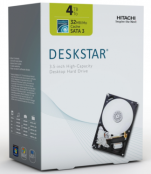 Hitachi has announced the release of the Deskstar 5K4000, Hitachi's first 4TB hard drive. It's a 5400 rpm hard drive, but it isn't going to show the performance boost that early 2TB and 3TB drives exhibited as it lacks the areal density we have come to associate with the multi-TB barrier breaking drives. The 5K4000 may not break any performance records, but, clocking in at $400 for the internal model or $420 for the external model, it will require you to break the piggy bank wide open. The fact that is expected to be available in an internal model is a step in the right direction, though. As far as I am aware, Hitachi will be the only hard drive manufacturer shipping internal 4TB hard drives. Seagate's 4TB is only available as a USB 3.0 external drive, albeit at about $100 less than Hitachi is expecting the 5K4000 to fetch. Anyone ready to swap out the drives in their RAID server?
Add Hitachi to the list of hard drive makers offering 4TB drives. A few days after the Deskstar 5K4000 appeared in Japan's Akihabara district, Hitachi has made the product official. The press release isn't exactly overflowing with details about the new model's technical specifications, but a little digging on Hitachi's website reveals just about everything we need to know about the 5K4000.