Buffalo CloudStation Pro Duo Reviewed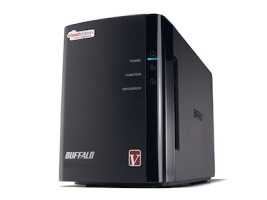 Buffalo has made quite a name for itself in the NAS market with their line of LinkStation NAS devices. PogoPlug has carved out it's own little niche as the highly adaptable media and data serving mini-computer and software suite, especially with its emphasis on making sharing across the Internet easy. Well, Buffalo and PogoPlug have hooked up and the result is the CloudStation Pro Duo. It sounds like the CloudStation Pro Duo really does tap into the best aspects of both the LinkStation and PogoPlug, all together is one relatively easy to use and cost effective box. That being said, the PogoPlug software is so versatile and the PogoPlug devices so inexpensive, it might be worth your while to do some comparison shopping to see if rolling your own multi-drive system would work out better.
The model we are reviewing is the CloudStation Pro Duo. With 2 x 1TB drives which can be either configured for RAID or left as separate drives to allow you to use PogoPlug's folder mirroring, this seems an excellent way of safely storing data and having it available on your travels as well.