HIS Introduces the Multi-View+Sound USB 3.0 to HDMI Adapter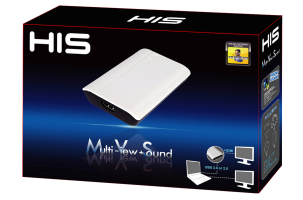 Hightech Information System Limited (HIS) is claiming a first with the release of the Multi-View+Sound, a USB 3.0 to HDMI adapter. It promises HDCP-compliance and 1080p support, and even DirectX 10 and DirectX 11 support for gaming. It does pipe out 2.1 and 5.1 sound, but it's not going to provide bitstreaming for your DTS-MA and TrueHD soundtracks. The best part is you can use 6 adapters on one computer which means I can finally build that wall o' monitors I've always wanted.
I got a press release today about a new USB 3.0 to HDMI adaptor which could be a great way to add multiple displays to a USB 3 equipped PC, you can connect up to 6 displays to one PC without needing any additional video cards.