Boxee Updated to Version 1.5, Final Version for Desktops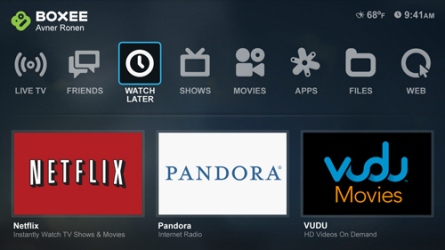 Team Boxee has announced that version 1.5 of Boxee is now available for PC/MAC/Ubuntu and is being tested by Early Access users on the Boxee Box. Unfortunately, Team Boxee is also announcing that Boxee 1.5 for Desktops will be last version released for computers. Going forward, all of Team Boxee's attention will be devoted to the Boxee Box. As if to emphasize the point, the blog post in which the news was delivered indicates that Boxee 1.5 for Desktops will only be available on the Boxee site through the end of January. Hopefully there are plans to let other sites host the download in the future.
Boxee 1.5 for Desktops will include all the interface polishing that the Boxee Box version will receive and reportedly brings the PC client up to about 85% of the functionality of the Boxee Box, but will not support any apps that require DRM or certification such as Netflix or Pandora, and also will not support Boxee Live TV.
This 1.5 release will be the last version of Boxee for PC/Mac/Ubuntu. It will be available on Boxee.tv through the end of January.

We believe the future of TV will be driven by devices such as the Boxee Box, Connected TVs / Blu-Rays and 2nd screen devices such as tablets and phones. While there are still many users who have computers connected to their TVs, we believe this use case is likely to decline as users find better alternatives.
While Boxee for Desktops users will be happy to finally receive an update, this is still disheartening news, particularly given that Avner Ronen's June post about the fall update coming to PCs seemed to suggest that the plan was to not only continue PC support, but keep it more in line with Boxee Box releases. Is Team Boxee right that there is not a place for software like Boxee on PCs in the future?
–Release Notes after the break–
Boxee 1.5 for Desktops bridges the gap from the previous desktop version (version 0.9) and enables various features on the PC that have so far been available only on connected devices.
New Features on the Desktop client
Main Menu
Home Screen
Browse Screens (Movies, TV Shows) – Now includes filtering options
Watch Later including filtering
Action/Info Menu
New On Screen Display (OSD) and settings
Library and Play action
Rotten Tomato rating integration into movie info
Ability to filter local content by source (USB, Network, SD)
Added alphabetical scrollbar for local content
Enhanced sorting options in browse screens (A-Z, Z-A, most popular, newest/oldest…)
Main menu supports additional filter options
Mark items as watched/unwatched from the Action menu
Added option for hourly scan of local libraries enabling user flavor selection (online/local inclination) during first login and via Settings > Defaults
Search functionality
New HTML5 WebKit based browser allows browsing many popular web sites as well as sites designed for TVs
Faster Page Launch & Loading Speed
Added ability to "Favorite" web sites for quick access
New "Favorites" section in the browser
New "History" section for browsing previously visited web pages
Current URL is now displayed in the address bar
Support for HTTP Live Streaming protocol
Multilingual support (17 languages)
Networking & File Playback
Enhanced support for SMB/CIFS
Added support for Boxee Media Manager
Consolidated network shares under the server name
Weather – full integration with Accuweather
Added setting to disable full network scan of SMB sources.
Supported platforms
Windows XP, Windows Vista, Windows 7 (32 bit and 64 bit)
Mac OS X 10.6 and higher (Intel only)
Linux Ubuntu 11.10 (32 bit only)
App Compatibility
While we have tried to maintain app compatibility between the Boxee Box and the desktop client versions, there are some cases of incompatibilities caused by either security restrictions or by unique platform behavior. Some apps work on one platform but not on other.
Limitations of the Desktop client vs. Boxee Devices
General

Live TV is not available on the desktop clients
Some apps are specific to the Boxee Box, such as: Netflix, Vudu, Spotify, Pandora and more
When changing language, a restart is required for the changes to take effect.

Known issues – Mac OS X

Connecting to social network from within the Boxee client does not work.
You can still connect from boxee.tv.
Unable to access shares protected machine via SMB
Playback of some videos creates inconsistent volume level
Resolving of media files with NFO fails (they do not resolve automatically
and crash on manual resolve)
Full screen on browser is not supported; activation can yield unexpected results

Known issues – Windows

Connecting to social network from within the Boxee client does not work.
You can still connect from boxee.tv.
Full screen on browser is not supported; activation can yield unexpected results

Known issues – Linux

Connecting to social network from within the Boxee client does not work.
You can still connect from boxee.tv.
Full screen on browser is not supported; activation can yield unexpected results