HDPLEX H3.SODD Fanless Mini-ITX HTPC Case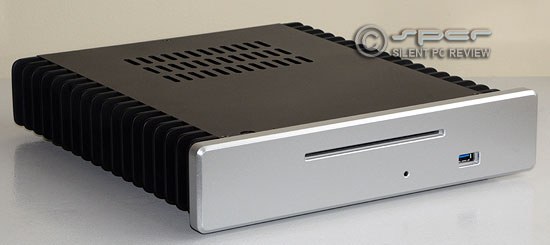 We reviewed the awesome HDPlex H10 a couple months ago, and Mikinho absolutely loved it. Now they've got a new smaller form chassis up and the gang at SilentPCReview took it for a spin. No surprise that they joined our ranks in absolutely loving the design and noise (or lack there of) that comes with it.
It's hard not to be impressed with your first glimpse of the H3.SODD, its massive aluminum facia, dual rows of cooling fins, and low profile look. Anyone who has ever lusted after similarly stylish high end audio gear will find the H3 appealing, and this consumer association is the precise intent of the designer. The optical disk slot, IR remote receptor pinhole and USB 3.0 port are the only departures from the smooth monolithic silver face.