ZOTAC introduces new lineups at CES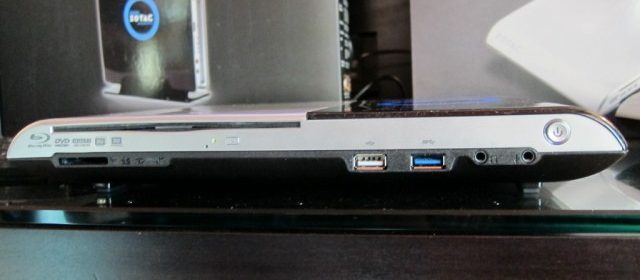 While at CES we had a chance to meet with ZOTAC and we are very happy we did. Their ZBOX and Mini-ITX motherboards have done very well over the last year among HTPC enthusiasts and I expect their new lineup to do just as well.
What I really liked about their new products is that they will be offering a mix of different graphic solutions. So regardless of your preferred graphic solution, Intel, NVIDIA or AMD, ZOTAC has a box and\or motherboard for use in the HTPC market. Lets be honest, sometimes it doesn't matter how well a system does on benchmarks or reviews, you are going to go with a solution that you trust from your own experience. ZOTAC understands that and has you covered.
ZBOX OOD
We saw several new models of the popular ZBOX ODD lineup, each including an integrated Blu-ray drive (lower end\cheaper models with DVD drives are also available.) The first was an update of their existing ION2 product. The ZOTAC ZBOX Blu-ray 3D ID36 Plus features an updated Intel Atom D525 processor and ION2 graphics capable of 3D Blu-ray playback. This is the first 3D capable ZBOX. For full specs see http://www.zotacusa.com/forum/topic/3731-zotac-expands-zbox-lineup-with-new-zbox-dvd-series/. The ID36 should be available for purchase within 60 days.
The second (and more interesting) is the ZOTAC ZBOX Blu-ray AD03 Plus which shifts to a AMD Fusion solution. The AD03 is built around the AMD E-350 APU w/ the AMD Radeon HD 6310. It offers many of the same features as the ID36 but slightly updated feature set sporting DirectX 11 and OpenGL 4.1. No ETA on release.
While there we had a chance to watch a Blu-ray on both systems. The ID36 and AD03. Visually, both played the movie perfectly but what I found interesting is the AD03 was noticeably cooler than the ID36.
Both systems support USB3 and e-SATA and can be purchased with or without RAM and a hard drive to customize the configuration.
Mini-ITX
Hoping to continue their success from their Intel Clarkdale Mini-ITX motherboards ZOTAC introduces their new Sandy Bridge \ H67 line of Mini-ITX motherboards. Below we see the ZOTAC H67-ITX WiFi. Like many new H67 boards, tge H67-ITX features an LGA1155 socket for Sandy Bridge second generation Intel Core processors, on-board WiFi, DDR3, USB 3.0, SATA6 and a PCI-E x16 slot.
ZOTAC will also be offering an H67 Mini-ITX motherboard with an on-board NVIDIA GT 430. We didn't get to take a photo of it since it was being shown in the booth and not the suite but this may be the answer to many enthusiasts that need proper 24p support but do not want to lose a PCI-E slot in their Mini-ITX system. The H67 \ GT 430 Mini-ITX uses SODIMM memory modules similar to their ZBOX systems. We were not told whether the different outputs would be powered by on-board Intel HD Graphics versus the NVIDIA GT 430. I hope so, I would like to see the DVI powered by Intel and the HDMI by NVIDIA. From a meeting with Intel later in the day we found out that a software solution will allow you to utilize Intel's Quick Sync hardware transcode engine even with a discrete graphic card. So with the H67 \ GT 430, you can get the best of both worlds, proper 24p support on the GT 430 and incredible transcoding through Intel Quick Sync.