Ceton InfiniTV 4 Tuner Sharing via Network Bridging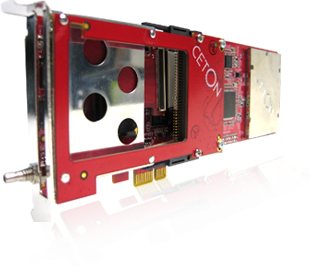 For those that missed their podcast last night, Josh and Adam from The Digital Media Zone announced Network Tuner Sharing working in the latest Ceton InfiniTV4 Beta firmware.
While we can't comment too much on the implementation, I can confirm that it has been working well. Not only that, but it works on W7, Vail and Windows 2008 R2.
I know a lot of people are eager to see it working on Vail but honestly it is not very interesting to me. When using the InfiniTV4 on the Vail system you are limited to Network Bridging and assigning tuners to remote systems. It is a great option if your primary HTPC doesn't have room for the InfiniTV4 but otherwise I don't see the network overheard being worth it.
What I did find very interesting is installing the Ceton InfiniTV4 in a Windows 2008 R2 (or Windows Small Business Server Code Name "Aurora") running Hyper-V. If you setup network bridging between the InfiniTV and a Windows 7 private virtual networkcard then you can record and connect extenders to the InfiniTV4 via the virtualized HTPC. I use this virtual W7 as my primary recording broker, PlayOn server and DLNA server. My primary HTPC and bedrooms HTPC are setup to sleep and I don't have to worry about them waking up to record or network issues potentially affecting recordings.
For SageTV users, I also have SageTV running on the virtual HTPC and working with the Ceton InfiniTV4 via Andy's SageMCTuner. There is a ~20 second delay when tuning so while it may not be an ideal solution, for recorded content it not only works but is currently your only solution for enjoying CableCARD within SageTV. Please note, SageMCTuner is limited to Copy-Freely content.
If you have any questions, I'll answer if I can but it will be limited to the experience. I cannot answer questions on the implementation, it is a beta after all and things will change prior to public release.
Ever since CableLabs approved CableCARD devices to enable tuner sharing owners of the Ceton InfiniTV 4have been waiting for Ceton to release the firmware that would turn this functionality on. While it hasn't been released to the public yet, beta testers of the quad tuner CableCARD device can now do just that. Tonight I installed the latest beta firmware, bridged the connection between the tuner card and my ethernet adapter, and setup a secondary PC to use the InfiniTV 4. Once everything is setup on both ends, you simply go through the standard guided setup process on the secondary PC(s) to setup the tuners, as you would any other tuner device. After that it works just like any other tv tuner. I was able to instantly start watching live HD television immediately, without any noticeable lag from the streams being broadcast across my network.