Boxee Beta Unveiled, and D-Link Announced as Hardware Partner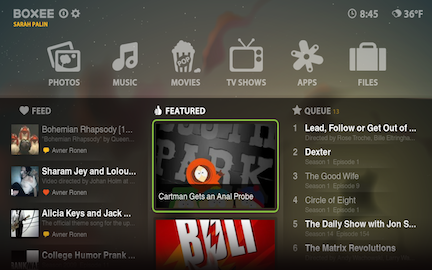 Looks like that is what some VC funding can deliver, a very impressive overhaul of the slightly criticized Boxee user interface. All I can say is…WOW. It looks SLICK! Head on over to the Boxee blog for all the screenshots, but here are a few of my favorites. I for one can't wait to try this out!
Also, just received the following news, that Boxee has partnered with D-Link for their first hardware device! The appearance of this is far from conventional and with pricing still TBD, I will withhold judgement. I'm curious to hear full details but for now enjoy the teaser pictures!
| | |
| --- | --- |
| | |
The Boxee Box by D-Link, which has already won a Best of Innovations award from the Computer Electronics Association, reinterprets what TV should be, delivering all the movies, TV shows, music and photos from a user's computer, home network and Internet to their HDTV with no PC needed. Additionally, Boxee's core social features make it easy for friends to discover new content from each other through social networks like Facebook, Twitter and more.
In addition to its many software features, The Boxee Box by D-Link makes it easy for consumers to connect the device via HDMI, SPDIF, RCA Audio. The box has 2 USB for expansion and can quickly connect to a home network using both Wi-Fi (802.11n) and wired ethernet.
The Boxee Box will be available through D-Link's network of etail and retail outlets in the first half of 2010. The manufacturer's suggested retail price is still undetermined.