Tip Of The Day: Netflix Watch Now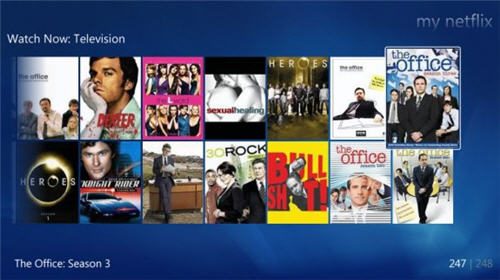 The whole concept behind a digital home is having your media when and where you want it. Netflix has certainly progressed this concept with their mail order DVD rental business and their "Watch Now" feature. No official partnership, as of yet, exists between Netflix and Microsoft, leaving a void that was filled by a couple enthusiasts of the Media Center community.
Anthony Park recently released a plugin that allows you to enjoy a Netflix experience from a 10′ UI. The plugin doesn't necessarily replace managing your rental queue from your regular computer, it certainly does supplement it. The best part of the plugin has to be the integrated "Watch Now" feature. Though the selection is rather meager, it does have a nice collection of TV shows such as The Office and Heroes. Why bother managing season recordings when you can have a DVD quality experience delivered whenever you want?
Do keep in mind that the video quality is dependent on your connection speed. I have 10 megabit cable connection and the quality is near DVD though not quite.
With a good rental queue and Watch Now to suppliment your viewing, I imagine you could go quite some time without resorting to surfing for shows.
Something else to consider, the cheapest monthly plan for Netflix is equivalent to renting a couple of HD movies off of AppleTV.