Zalman HD160XT HTPC Enclosure Review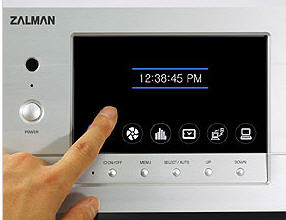 Zalman, long known for their cooling supplies, has taken the HTPC market by storm with their latest cases. Of course, they appear to from good heritage ;). The HD160XT is the grand daddy in Zalman's lineup and sports a 7" touchscreen, MCE compatible remote, card reader, and a nice array of media buttons on the front. Although most HTPC case reviews say they will fit into any entertainment center looks wise, I think this particular case actually fits the bill.
Regarding the LCD, I have I really have no experience with this particular model. It looks to have decent functional software. I clearly need to get one of these in to test out.
From the review:
In a chassis like the
HD160XT, air flow isn't a problem for the components. The
HD160XT has 2 x 80mm fans mounted to the back inside of the chassis, 1 x 80mm
attached to the bottom just behind the 5.25 drive pays, and 1 x 80mm fan
installed inside the hard drive bay against the chassis wall. All of these fans
are situated in such a way that air flow immediately gets to the warmest
components inside the system. There is an extra fan port in the back left
chassis wall if you feel the need to install another 80mm of choice. And if this
isn't enough cooling for you, the case lid has an adjustable and removable vent
plate located right over the 5.25 bay and internal bottom 80mm fan to increase
air flow.
 
 Picture taken from Zalman's website.