Philips 42PF9831D 42-inch LCD TV Review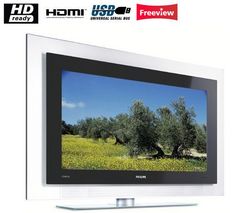 I have always wanted to chek out the ambilight series of TVs from Phillips in a controlled environment. Until then, I will satisfy my LCD lust with Pocket Lint's (best name ever) review of Phillips' 42PF931. It is certainly no slouch in teh connectivity arena; it sports HDMI, USB Component and Ethernet. The unfortunate part is that this is not a 720p TV, and for the price it is quite high. As the review states, it is a pretty sexy looking TV.
From the article:
With video resolution support of up to 1080i/720p, a 4000:1 dynamic
screen contrast and a 176 degree viewing angle (which means you still
get a decent picture at the most acute of angles) the specifications
won't let anyone down. You'll also find five built-in speakers and an
integrated subwoofer, we were so impressed by the sound through the
HDMI port we turned off a separate surround sound system just to enjoy it in its natural glory.