Motorized Tilt, Swivel Flat Panel Display Mount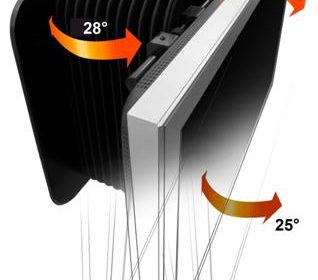 As the blog posts says, it was only a matter of time before someone came out with a mount that has motors and is controllable with a remote. For the small price of $1995 you can own a mount that telescopes up to 12 inches, tilts 56 degrees left to right and 25 degrees down. It can accommodate displays from 37 to 61 inches.
From the article:
Obviously this is a custom installation solution and given the relative
complexity of the design, the X-Arm also carries a custom-installation
appropriate price tag of $1995. (hardware only) However given the potential
headaches this mount could cure, the X-Arm will no doubt find a comfortable
niche in the custom home theater installation market.