I joined the MP3 revolution with a 30GB iPod video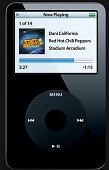 Not to get all gadgety on you but I finally got myself into the 21st century for mobile/personal audio. I thought I would share my first impressions, and general usage experiences as well as comments on moving video to the iPod from various sources including downloads and converted TV recordings.
First Impressions
Man this thing is small! I've certainly seen iPod's before, heck I have friends and co-workers with 'em. But the new 5th generation design is really small. I have a 5.5 generation 30GB iPod Video and it doesn't seem to be much bigger then the flash memory based first generation iPod Nano. It really is thin. You know how fast food advertisements are "enlarged to show texture"? Well the pictures of the iPods on apple.com are about 1/4 to 1/2 again larger then real life.
I of course also have a hard case that snaps around the iPod since they are still quite prone to scratches.
Using the iPod
The scroll wheel/touchpad really is quite slick, I've never really sat down and used an iPod for anything other then fooling with one at the Apple Store when I've been at the mall. So the navigation experience was mostly new to me. I like it, however one minor gripe with the GUI programming is that it when you scroll through to end the end of a list, continuing to scroll in the same direction doesn't loop you back up to the top, you have to stop and scroll in the opposite direction, would be nice to have that be a feature toggle in the setup somewhere.
As we all know the included earbuds with any MP3 player are junk, and the iPod's are indeed quite poor.
The new iPods include various games, most are rather typical clones of games we all know and can find on the web in Flash form. There is one rather nifty game that takes all the music on your iPod and randomly starts playing a song, on the screen is a list of multiple song titles, the longer the song plays slowly the titles fade out eliminating a wrong answer, however the longer you take to ID a song the lower your score, since the score drops the longer you take. It's a neat way to see how well you know your music collection.
PC connectivity/sync
A slight disappointment is how the iPod syncs with a PC, I was 99% certain I had to use iTunes, which is true. However, inside iTunes is a little check box to enable a drive letter for the iPod. I quickly opened My Computer to see it recognized like a flash drive (rather then a hard drive, which is actually a good thing). However opening it up I quickly realized the only use for this feature is so you can use the iPod's hard drive for random file storage. You can't drag and drop MP3s or videos; those are in hidden folders using a proprietary naming scheme and directory structure with a database that iTunes updates.
Two annoyances come from needing iTunes loaded to enable drive letter access:
You need iTunes around for any other PC you might use.
And secondly, since iTunes controls the mounting and unmounting of the iPod there is a really odd oversight: if you "eject" an iPod (unmount it) iTunes removes the icon for the iPod, now say you realized you wanted to transfer that new CD you just ripped but you forgot to sync it with the iPod, logically you should just remount the iPod and sync it…. except there is no way to re-recognize the iPod once you have "ejected" it. You must either close and reopen iTunes, which makes it search for any connected iPods, or disconnect and reconnect the USB cable to the iPod. What a silly oversight! …why there is no "scan for connnected iPods" function in iTunes is beyond me.
Video experiences:
I have yet to try actual iTunes Store content on my iPod, but I thought DIY'ing your own iPod compliant video would make more a interesting topic anyway. I haven't used the video features much yet. So for fun I converted a ~1 minute promo for the Amok Time remastered Star Trek episode (I had just converted it and added a watermark for trekmovie.com so I had it around and it was short so I didn't have to wait long for the conversion). I have Total Video Converter around and it has profiles for the PSP, the iPod in H.264, and the iPod in MPEG4. I had it convert the WMV format promo video into a suitable format, and had iTunes sync it to my iPod. Lo' and behold it worked great!
Last week I wanted to have something more substantial around to watch if I find myself waiting between classes, etc. I took a Media Center recording, converted it to a normal MPEG2 stream and then loaded it into Total Video Converter and let it convert it. The conversion of the hour long recording still took around 45 minutes even when I chose stock MPEG4 instead of H.264. As you may already know, H.264 is quite an intensive codec; it was no surprise that it would have taken over an hour to convert if I had used H.264. Not exactly a quick convert it and go affair. If I get more serious about taking videos with me I'll look into one of the MCE plug-ins that can convert recorded TV automatically in the background.
Of course the real question is how does it all look on the little screen? It actually looks pretty good, however I don't recommend watching a full length movie on it. I found myself squinting and trying to find a good distance from me without looking like I am a glaucoma patient trying to read a fine print book.
DIY Video Format Information:
H.264 video: up to 768 Kbps, 320×240, 30 frames per sec., Baseline Profile up to Level 1.3 with AAC-LC up to 160 Kbps, 48 Khz, stereo audio in .m4v, .mp4 and .mov file formats
MPEG-4 video: up to 2.5 mbps, 480×480, 30 frames per sec., Simple Profile with AAC-LC up to 160 Kbps, 48 Khz, stereo audio in .m4v, .mp4 and .mov file formats
If you're looking for a nice clean free utility to convert to an iPod accepted format, check out Videora iPod Convertor.