Lian Li PC-Q25 Chassis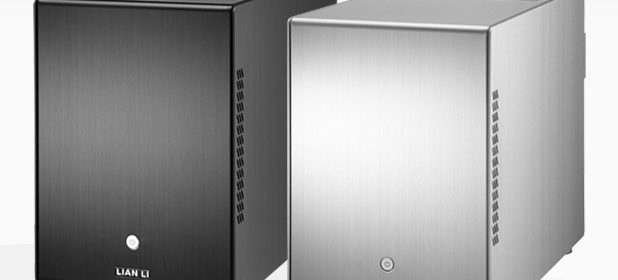 The Fractal Design Array R2 chassis instantly recalled for us the decidedly niche, but incredibly functional, cube-style cases popular a few years ago. which were incredibly niche but very functional. The R2 was flexible, silent and sleek in a very limited amount of space. The Lian Li PC-Q25 chassis shares many of the same appealing traits, but goes for a taller design in a similar footprint. This allows it some interesting arrangements inside and allows for even more internal storage options. As a small form factor case there are always trade-offs to be made, and the omission of an optical drive space is just one of them. With some very attractive features in a small form factor cube-like chassis, the Lian Li PC-Q25 has a lot to offer a variety of consumers, which we will examine closer.

SPECIFICATIONS
As we mentioned, the dimensions of the PC-Q25 are rather unique, as shown below:
Case Type
Mini Tower Chassis
Dimensions
(W) 199mm x ( H ) 280mm x (D) 366mm
Material
Aluminum
Color
Black / Silver
Net Weight
3.1KG
5.25″ drive bay (External)
None
3.5″ drive bay (External)
None
HDD bay
3.5-Inch HDD x 7 ( Hot swap x 5 ) / 2.5-Inch x3 ( used 3.5-inch bay )
Expansion Slot
2
Motherboard
Mini-ITX / Mini-DTX
System Fan (Front)
140mm fan x1
System Fan (Top)
120mm fan x1
System Fan (Rear)
None
I/O Ports
None
Maximum Compatibility
VGA Card length: 320mm
PSU length: 140mm
CPU cooler height: 80mm
PACKAGING & HARDWARE

The Lian Li PC-Q25 arrived secure in its cardboard box and was enclosed within Styrofoam, with no signs of damage after shipment. Inside the package was the case, two sets of instruction sheets, and some promotional material for other available Lian Li components. A box of screws and other accessories was tie-wrapped to the interior of the chassis.
The chassis consists of a gorgeous black-brushed aluminum exterior (helping make it very light), a single power button in the lower center section of the front faceplate and a silver Lian Li bezel which stands out a bit too much for my preference. There are vents located on the front and bottom, with a removable filter on the lower section for easy cleaning.
Opening the chassis is simple and tool-free, as both side panels are held to the chassis with some pressure mounts which snap into place when closed. It's a unique mechanism to close a chassis which makes opening it a snap. The rear power supply bracket is removable via thumb screws as well. As with many Lian Li chassis–and still a fairly unique feature–the motherboard tray is removable. Removing the motherboard tray doesn't take away the space constraints (the case remains pretty much the same size) when putting the components (HD, PSU) inside the chassis, it just makes it easier because you don't need to be as careful.. It also makes it easier to manage cables this way as well, and route them around the back. On the bottom of the chassis is a removable hard drive tray to hold up to three additional drives.
The interior of the PC-Q25 is occupied by a large vertical hard drive cage which can hold up to five 3.5" hard drives. This allows you to assemble the components both inside the chassis and on the motherboard without space constraints, and contains a rather creative locking mechanism. In order to achieve this, the hard drives are mounted using special trays attached to their sides, and then easily slides in and connects to the SATA backplate behind it. In front of the drive cage is a large 140mm intake fan which keeps things very cool, and the 120mm top exhaust fan keeps the flow of air through the hard drives and over the motherboard before exiting out the top.
The last item of note is the most concerning and conscious when planning this purchase–the amount of space available for a power supply. The Lian Li PC-Q25 supports a full ATX power supply with one caveat: the depth of it (with cables) can not be longer than 5.5 inches, or it will not fit as it hits the hard drive cage. This is an odd choice by the chassis designers, since the PC-Q25 supports full-length, dual slot graphics cards, but the limitation on power supply depth means you will have to plan carefully as to which power supply you will be able to support, and ensure you are able to support your wattage needs with the depth available.
TEST SYSTEM

Motherboard
Intel DH57JG
CPU
Intel Core i3-540 3.0GHz
CPU Cooler
Intel Stock HSF
Memory
4GB (2x2GB) Kingston Hyper-X DDR3
GPU
n/a
Hard Drive / Solid State Drive
Intel G2 80gb SSD
3 x Seagate Barracuda 7200.11 1.5TB SATA
Optical Drive
n/a
Power Supply
Silverstone SST-ST40F-ES
Operating System
Windows 7 Professional 64-bit

THE BUILD

As mentioned in the description of the Lian Li PC-Q25 the removable motherboard tray makes the installation of the motherboard and the cable management very easy. All small, form-factor chassis sacrifice interior space in exchange for the tiny size; while you do eventually need to manage the cramped space within, at least the removable tray allows you to work with the cables and space without the board interfering.
The chassis supports Mini-ITX motherboards of which there are many to choose from today, but we opted for the Intel DH57JG board as this chassis will be used in the main living room and serve duties as both HTPC and Server system. The Clarkdale board is more than capable of fulfilling our HTPC needs as mentioned in our review. The chassis would be fine in a closet or hidden away, but we feel the design and aesthetics of it make it a shame to have it tucked away.
We opted for the stock Intel Heatsink and Fan (HSF) combination with the Core i3-540 processor, as it is more than adequate in cooling performance, and the noise level is acceptable as well. If another cooler is selected, be aware of the low clearance between the motherboard and the power supply. It's not extremely tight, but as you might expect, you won't be able to utilize tower coolers for this chassis.
The power supply sits directly on top of the motherboard, which makes the size of the exhaust fan important. With our selection, the Silverstone SST-ST40F-ES, the exhaust fan is 120mm, which allows for low noise and sufficient airflow to help keep things nice and cool within. The fan is not the only important item when choosing your power supply. As previously mentioned, the depth of the power supply is limited due to the hard drive cage sitting in the middle of the chassis, as shown in the photo gallery. Our first selection, an Antec Earthwatts 750 power supply, was far too deep to support and protruded approximately 2 inches out, preventing installation. The maximum depth allowed is 5.5 inches, so plan your purchase accordingly.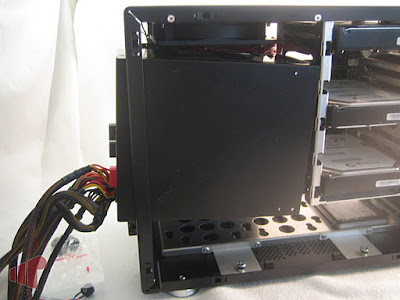 For storage, three Seagate Barracuda 1.5 terabyte hard drives were used. The brackets attach to each side of the drive which allows them to easily slide into the cage and then locking into place, tool free. Take care of any extra brackets you have after installation, as these are proprietary to this chassis and would be difficult to replace in short notice if they were lost. For the operating system, a solid state drive was used and was installed into the hard drive tray on the bottom of the chassis. This spot is the poorest cooling location, but with heat not often an issue with SSD's, we were not concerned. But if you install a 3.5" hard drive in that cage, proceed with caution–the cage is definitely a more preferred location as it has a 140mm fan blowing air across it.
PERFORMANCE
For thermal and performance testing we use synthetic tools to test extreme conditions to sample a worst-case scenario. By burning-in all of the CPU cores and stressing the hard drives with I/O benchmark we can maximize the potential heat to see the range of variations from idle to peak.
| | Idle | Load |
| --- | --- | --- |
| CPU Temperature | 36 C | 69 C |
| PCH | 59 | 59 |
| VR | 65 | 74 |
| DIMM | 34 | 42 |
As shown above, temperatures are more than acceptable, and actually beat that of some previously reviewed chassis–a sign that the extra large fans in the PC-Q25 are doing their job.
CONCLUSION

Lian Li has been making quality, high-end chassis for years, and the PC-Q25 is no exception. The unique footprint and chassis style will not appeal to all enthusiasts, but those who are fans will not be disappointed. The chassis supports an incredible 8 hard drives, in a small, form-factor chassis, and uses clever installation techniques to make the build and exchanging of those drives a snap.
Indeed, the only found concern with the chassis that we can comment on is the price; at $120, without a power supply, this is not your typical small, form-factor chassis pricing. But all that comes with expectations, and Lian Li delivers–this is for users who demand the large number of drives with the appearance and support for smaller boards, in a beautiful aluminum chassis.
PROS:
Supports 8 hard drives
Great cooling and airflow with included 140mm & 120mm fans
Supports long dual-slot video cards
Removable motherboard tray
Beautiful brushed aluminum exterior
Tool free opening chassis sides
CONS:
High MSRP
Only supports shorter depth PSU's
No optical drive
Thanks to Lian Li for providing the PC-Q25 for review.