IOGEAR GKM571R 2.4 GHz Multimedia Mini Keyboard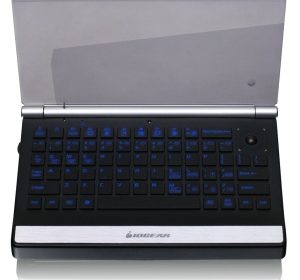 The IOGEAR GKM571R is a palm-sized mini wireless 2.4 GHz wireless LED backlit keyboard with built-in laser trackball, mouse buttons and built-in scroll wheel. It uses RF technology with an advertised range of 33 feet. IOGEAR refers to the GKM57IR as "the ideal solution for the home entertainment living room and computer enthusiast looking to compliment their PC to TV solution." We needed to find out for ourselves, is it the ideal solution? My first impression certainty seemed so.
Specifications
Before getting into that, let us take a look at what is included.
What's in the Box:
1x Multimedia Keyboard
1x USB RF Receiver
1x Cleaning Cloth
2x AA Batteries
1x Quick Start Guide
1x Warranty Card
Wireless Technology
Radio Frequency (RF)
Radio Frequency
2.4 GHz
Connectors
USB RF Receiver
Operating Range
Up to 10m (33ft)
Resolution
400/800/1200 DPI Trackball Resolution
Operating System
Windows XP
Windows Vista (32-bit / 64-bit)
Windows 7 (32-bit / 64-bit)
Mac OS X v10.3.9 or later ***
Xbox 360
PS3

*** Some Mac special keys may not work

Dimensions (W x H x D)
6.25" x 5.5" x 1.25"
Weight
0.18 LB
Hot Keys
19 hotkeys for quick access to multimedia and Windows Media Center features
Battery Type
2 x AA Alkaline Battery
Design
Aesthetically speaking, the IOGEAR GKM571R is a bit "vanilla"–it is basically a small black rectangular brick with silver accents and a translucent black cover. The bottom corners are slightly rounded, but not at the top where the cover hinges. I would have appreciated a larger radius on the rounded corners and for them to be uniform on all corners, as it feels a bit boxy. Overall, it isn't ugly and goes relatively unnoticed on a coffee table which is a plus; I prefer a keyboard not be a center of attention–my eleven year old son thinks it looks "cool."
The translucent black cover initially irritated me as it reminded me of the Logitech diNovo Mini that I despised and easily broke [Editor's Note: As shown by my review, I (Mike) loved it], but the two hinge design on the GKM571R proved hard to break and doubled as an elegant on\off switch. (Note: The GKM571R will also enter a low power standby mode if left open) It also protects the keys and trackball from dust when not in use.
The keys on the GKM571R are plastic that spring back similar to a MacBook. It took a few minutes of use to get accustomed to the button press–I initially would "miss" keys by not pressing down hard enough, but I blame the keys being stiff. Considering the compact size, the keys were well spaced for thumb typing, but those with larger thumbs may have a difficult time. Every key is backlit with a blue light that is controlled via a light sensor above the media keys. The backlight can also be turned off completely via a switch on the underside of the device. The design could have been improved with an adjustable sensor for the backlight; it had to be almost completely dark for it to turn on. There was also an issue with the provided batteries–the backlight did not turn on with the provided batteries. It was not a critical issue, but it initially led me to believe the keyboard was defective. Additionally, light blue color was a poor choice for backlighting because when it did turn on, the contrast was not sufficient to make out the keys without straining my eyes. I'll talk about the keyboard layout later in the review as I had mixed opinions concerning it.
I know not everyone likes a trackball, but I do. It was easy to use and conveniently placed for use with the right thumb and pressing the corresponding mouse buttons with the left thumb. My only criticism with it is that the trackball itself was not a button [Editor's Note: I (Andrew) prefer trackballs, and touch pads, that are not buttons because I tend to beat on them a bit]. It would have been ideal if it was pressure sensitive so it could be used as a left-mouse button which would have allowed the mouse to be used one-handed. Accompanying the trackball is a dedicated scroll wheel on the left hand side of the device. A potentially useful extra feature for quickly scrolling through a media collection but I ultimately forgot to use it most of the time.
Setup
What setup? No drivers were needed on either operating system I tested with: Windows 7 x64 and Mac OS X Snow Leopard. All that is required is to install the included AA batteries in the keyboard and plug the receiver into a free USB port. That is it, nice and simple. Since it is a standard USB HID, the keyboard is able to be used during boot to access the BIOS. The downside to not having drivers is that there are no programmable keys or the option to change the default Fn context of a key. For instance, some multimedia keyboards let you set whether a "shared" key defaults to the normal value or the corresponding multimedia hot key.
Testing & Usage
When it comes to wireless HTPC keyboards, I typically gauge a keyboard on five key aspects: aesthetics, range, accuracy, form-factor and usability. Aesthetics were already discussed so let's talk about the wireless range.
Range
Like most modern RF devices, the GKM571R is advertised as having a 33 foot range, but in testing, range was limited to 28 feet even with clear line of sight. When the USB RF receiver was plugged into a rear USB port, range was limited to a distance of ten feet to work reliably (i.e. no missed keys). When testing connected to a front USB port or using a short USB cable to reposition the receiver, the range increased to eighteen feet with furniture semi-obstructing line of sight. For my usage, I needed twelve feet so I went with a small USB cable that positioned the RF USB ~3 inches from the chassis and provided an adequate improvement in performance. We've generally found that RF USB dongles do not perform well when connected to the rear of a PC, especially in potentially crowed media consoles. I could have also used a front USB port but I refuse to use any front USB port with a permanent device. Unlike many similar products, a short USB extension cable was not provided with the GKM571R.
Accuracy
When used within a reliable range I found the GKM571R to be very accurate. Once I adjusted to the relatively stiff keys I did not miss any keys. As a mouse the trackball surprised me. I mentioned my affection with trackballs but that wasn't accurate–I like good trackballs. In my experience that meant the Logitech TrackMan Marble Plus I had in 1999. Any of the trackballs I've used in the last two to three years have been a disappointment. IOGEAR got it right, at least for a compact size. The trackball as a mouse was accurate and easy to use. I preferred the 1200 DPI sensitivity but the rest of the family preferred 800 DPI; luckily using a secondary (Fn) key the sensitivity was easy to adjust.
Form-Factor
I mentioned that aesthetically the exterior was a bit boring, but for an HTPC the form-factor is perfect. It isn't a distraction on the coffee table and is just big enough to lay on the palm of both hands, and use your thumbs for typing and mouse control. Some people would prefer a one handed solution but this reminded me of a Nintendo DS Lite and therefore felt natural to use.
Usability
This is where I went back and forth on the GKM571R. My initial impression was "this is great, finally a compact keyboard I will use," but after using it for a few weeks I became increasingly irritated by the keyboard layout–or more specifically the lack of certain dedicated keys. Due to the compact size many of the multimedia and special keys on the keyboard are shared keys. For instance, the Windows Media Center remote keys (Live TV, The Green Button, Music, etc) are shared with the multimedia keys (Play, Pause, Volume Control, etc). That is fairly standard on compact keyboards so that didn't bother me…much. What really bothers me is the lack of directional arrow keys and an escape key. The arrow keys are shared keys with the semi-colon, comma, period and slash buttons. The escape key is shared with the left mouse button. This was extremely frustrating and hard to adjust to. For simple navigation within HTPC software such as Windows Media Center, SageTV, Boxee, XBMC, MythTV, etc you either have to use the Fn key + arrow key or use a mouse–neither felt natural and limited the keyboard usage significantly. At least there is a dedicated back button.
Conclusion
Traditionally a good HTPC did not require a keyboard or mouse, a good remote was all you needed for day-to-day usage. With the increase of quality online media content in the last few years that has changed. Having a keyboard handy for discovering content and engaging in social media is becoming increasingly more beneficial. The IOGEAR GKM571R is not perfect but as a companion to a remote control, even with its flaws, I found it to be my favorite compact HTPC keyboard I've used. The GKM571R is available ~$80 and we've seen it go on significant sale several times already. It isn't an impulse purchase but I like it a lot more than more expensive similar products I've used in the past.
Ultimately the simple design and compact form-factor have earned it a place on our coffee table. I may not use it day-to-day but when I do it is handy and does the job well. I would use it a lot more if it had directional arrow keys.
Pros:
Good range (not great, but good enough)
2.4 GHz RF so line of sight is not required
Standard USB HID so usable within the BIOS, i.e. no drivers required
Cross platform
Trackball works very well as mouse
Easy to use
Backlit keys
Good build quality
Built-in scroll wheel
Well priced
Cons:
No dedicated arrow keys (requires Fn)
No dedicated escape key (requires Fn)
No dedicated function keys (requires Fn)
Not rechargable
Light blue color of backlit keys not very clear
No clear click or feedback to indicate keys were pressed
No IR capabilities for universal remote capabilities
Mikinho's (aka Me) Wish List:
Add left\right bumpers to use as left\right mouse buttons similar to portable game devices such as the Nintendo DS and Sony PSP.
Replace the left mouse button with a back button and the right mouse button as an escape key
Replace the Fn, Del, Back and Forward buttons in the bottom right as arrows keys
Make the trackball pressure sensitive corresponding to a left mouse click
Add IR capabilities to learn power on\off and volume control
I would also love to have a wireless compact keyboard that can be paired with multiple RF receivers and toggled via a switch. I don't use a keyboard often enough to purchase one for each HTPC in the house but when I do BIOS updates it would be nice to walk around with a single keyboard rather than pulling out a wired USB keyboard.
Thank you to IOGEAR for providing the review sample.