ESPN3WMC – Watch ESPN3 Broadcasts on your HDTV via Media Center Remote, Kind Of

If you have an HTPC and are a sports fan, and your cable company supports it, then you most likely have heard of ESPN3.com. This fantastic website from ESPN provides a lot of the content that is available on the cable channel to be streamed live to your system for free. Editorial shows like SportsCenter and Around the Horn are not streamed, but live sporting events like Tennis, Soccer and even Baseball and Basketball games that are on an ESPN channel are often made available both live and for replay. Those familiar will also be aware that the current interface for ESPN3.com is very keyboard and mouse demanding. Unless you use something like PlayOn, which we'll look at in the future, the normal way to get ESPN3.com on your HDTV via your HTPC is by pulling out that keyboard and mouse, opening a browser, and launching its application from there. Luckily ESPN3WMC has been developed to assist with this exact situation!
Above and Beyond
The way ESPN3WMC works is fantastic. It loads very fast inside both Vista and Windows 7 Media Center and has pivot menus for every sport. If you're using Internet Explorer to connect to ESPN3, you'll just have to make sure your ActiveX controls are installed and working correctly.The first pivot it shows is what's On Now, which makes life a lot easier than try to figure out all the sport's time and day. As you can see from the screenshot below, this not only gives you access to the live events, but it also shows you past events that are still available to be replayed.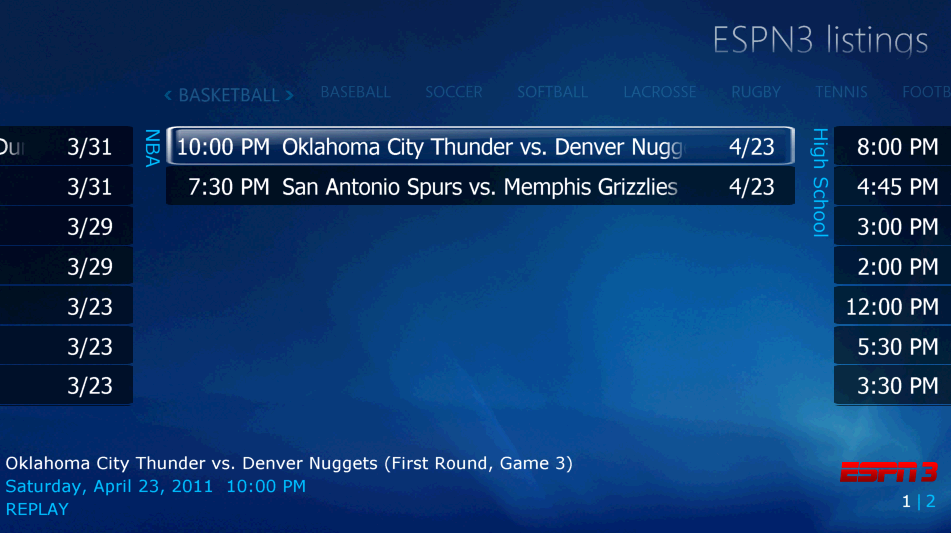 Once you find an event you want to watch then the process is simply clicking it, and then you will see the ESPN3 interface load within the Windows Media Center interface–and you can still use your remote's BACK button if you want to exit.
And that's about it, not much too it but it's very effective!
Just a reminder: ESPN3.com is only available if your internet provider supports it, which most do at this point.
Falling Short
I only have two complaints for the software, and it's not a fault of the developer at all, but more the limitations on ESPN3.com's interface itself. The first one is obvious–you cannot launch into full screen mode without pulling out the keyboard and mouse. Given all the other steps that ESPN3WMC is able to put in the remote, and the fact that there was no solution before makes this a minor quibble. But I hope ESPN3 embraces the methods which their customers want to use their fantastic application and start to support developers. Netflix did, and they've now surpassed Comcast on subscribers.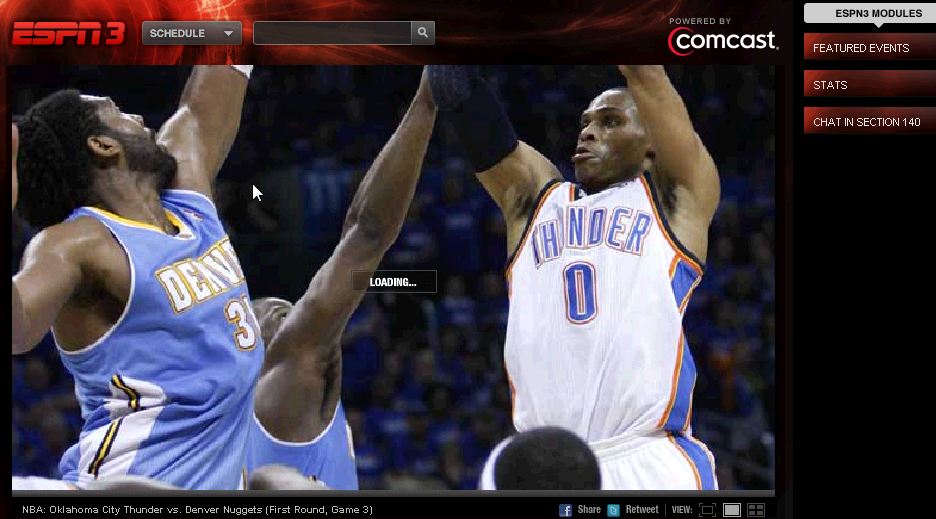 The other gripe is that the application shows every sport that's upcoming, and since ESPN shows a lot of sports, the list is really quite long. While ESPN3WMC does a great job of showing you what's on now as the first pivot, it would be great if I could filter out the pivot menus for sports I know I'll never watch–sorry lacrosse fans!
Grade: Approved for Everyday Use
I absolutely love this application. In talking casual, it doesn't seem like the process of closing Media Center, launching a browser, and then clicking an event, sounds all that cumbersome, but ESPN3WMC basically wipes all that away and lets you get to the sporting event you want fast and easily via the remote. Of course I wish ESPN would make it possible to get their interface in full screen, but I don't often "channel change" between live events on ESPN3.com so for me the main cause is just to get to my event. Then just sit back, relax and enjoy!
Product Vitals
Website: http://www.amarkota.com
Creator: Amar Kota
Price: FREE
Download via MadeforMediaCenter