brite-View Air SyncHD Wireless HDMI Bridge

Wireless video transmission–it just sounds like asking for trouble, doesn't it? Even under the best of circumstances, sending 1080p compressed video via 802.11n doesn't seem like such a great idea. A number of you have probably even tried to do this with varying amounts of success. Now, imagine trying to wirelessly send uncompressed 1080p video at 59.94 hertz (Hz). If wirelessly transmitting a Blu-ray stream (which tops out around 50mbps) is questionable, transmitting uncompressed 1080p/60 video seems downright impossible. Yet, that is exactly what brite-View claims to do with their Air SyncHD transmission kit.
In a nutshell, the brite-View Air SyncHD transmission kit promises to wirelessly bridge an HDMI source device and HDMI receiving device, freeing you to place the devices anywhere within the system's wireless range. Further, the system manages to send 1080p/60 video, audio and infrared (IR) with less than one millisecond latency up to 66 feet. It sounds great on paper, but can it deliver?
Specifications
General

Video Resolutions:

1080p, 1080i, 720p, 576p, 480p, VGA, SVGA, XGA, WXGA, SXGA, UXGA

Audio Formats:

Up to 6 Mbps, AC3, DTS, 2CH PCM (16-24 bits, 32/44.1/48/96 kHz)

Transmission Distance:

1080p (WIDE mode off): Up to 66 feet, line-of-sight

1080i (WIDE mode on): Up to 100 feet, line of sight

Minimum Distance Requirement: 6.5 feet apart

System Latency:

<1 ms

Operating Frequencies:

4.9 – 5.9 GHz

Power Supply:

100 – 240 VAC in, 5V 3A DC out power adapter

Operating Temperature:

0 – 40 degrees C

Dimensions:

181 (W) x 145 (L) x 33 (H) mm

BV-2322T (Transmitter)

HDMI Input:

1 x Type-A

HDMI Output:

1 x Type-A (Loop-thru)

IR Output:

1 x 2.5mm jack, 1 x 57" cable with 3 blasters ~19" apart

Power Input:

5 VDC jack

Power Switch:

1 x one tack switch

Channel Switch:

1 x one tack switch

Power LED:

1 x LED (blue, purple, red)

Status LED:

1 x LED (blue)

BV-2322R (Receiver)

HDMI Output:

1 x Type-A

IR Input:

1 x 2.5mm jack, 1 x 40" cable with IR Sensor

Power Input:

5 VDC jack

Power Switch:

1 x one tack switch

Channel Switch:

1 x one tack switch

Power LED:

1 x LED (blue, purple, red)

Status LED:

1 x LED (blue)

Status Indicator:

1 x OSD
Packaging and Hardware
The brite-View Air SyncHD kit comes efficiently and neatly packaged in mostly recyclable materials. The packaging provides sufficient protection of the contents to withstand shipping trauma.
The brite-View kit is composed of transmitting and receiving units which are nearly identical in appearance, construction and size. The units are housed in black plastic with a top vented piece that is smoked black and a bit transparent. The vented piece is reflective, much like the reflective bezels of some displays and other consumer electronics. It did seem to pick up a few light scratches during my testing and is noticeable with close inspection under bright lighting conditions and certain viewing angles.
The back of each unit has provisions for wall mounting and a wall anchor kit is also included.
Each unit uses an identical "wall wart" style power supply measuring approximately 2-7/8" x 1-7/8" x 1-1/8".
An IR remote control along with two AAA cells is also included. The remote, while adequately constructed, is a bit cheap looking and feeling. It is easy to tell that the remote chassis is rather generic as it has a silver colored sticker on the top which covers holes in the plastic underneath where other buttons might be placed. The holes can both be felt and the outlines can even be seen upon close inspection of the silver sticker. That being said, many users would probably just use the remote to program their universal remote and then toss it in a closet.
Finally, the kit includes an IR blaster and IR sensor. The blaster cable actually has three blasters with adhesive so they can be placed on equipment. The IR sensor has no such provision so double-sided tape or some other arrangement will need to be made to anchor the sensor in an appropriate location.
Connection and Operation
The Air SyncHD transmitter connects to a source device via HDMI and provides an HDMI Loop-thru (aka pass-through) port to replicate the source device output to a display, AVR or other device. In addition, an IR blaster cable with three IR transmitter bugs connects to the transmitter so that the source device can be controlled remotely.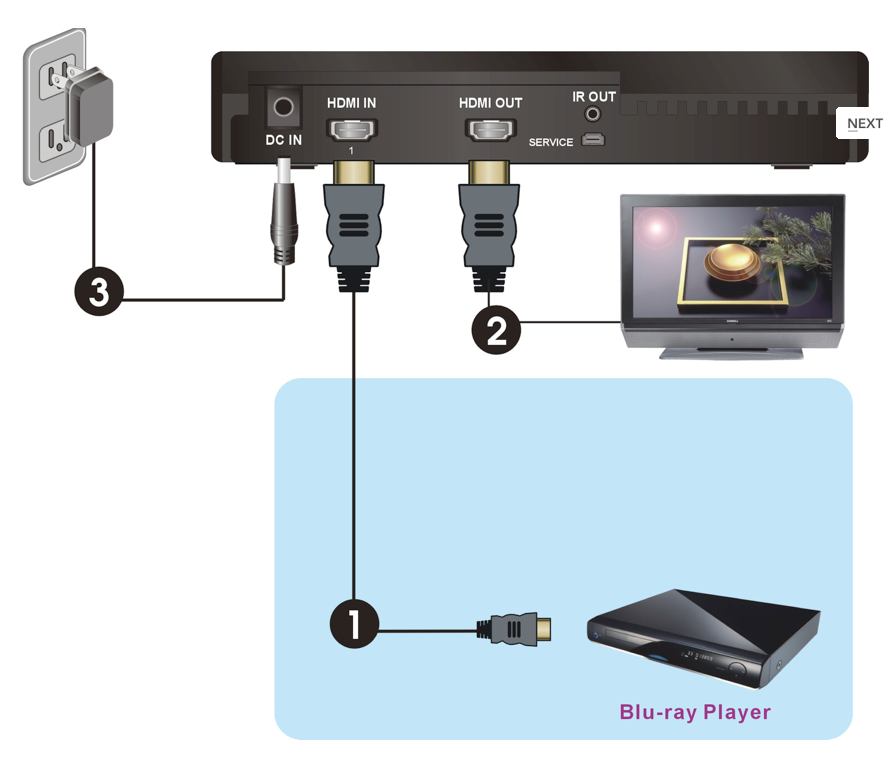 The Air SyncHD receiver connects to the transmitter wirelessly in the 5GHz spectrum. An HDMI port on the receiver then delivers video and audio to a connected display, AVR or other device. Additionally, an IR sensor connects to the receiver which collects IR remote signals and sends them back to the transmitter and out the IR blaster to control the source device.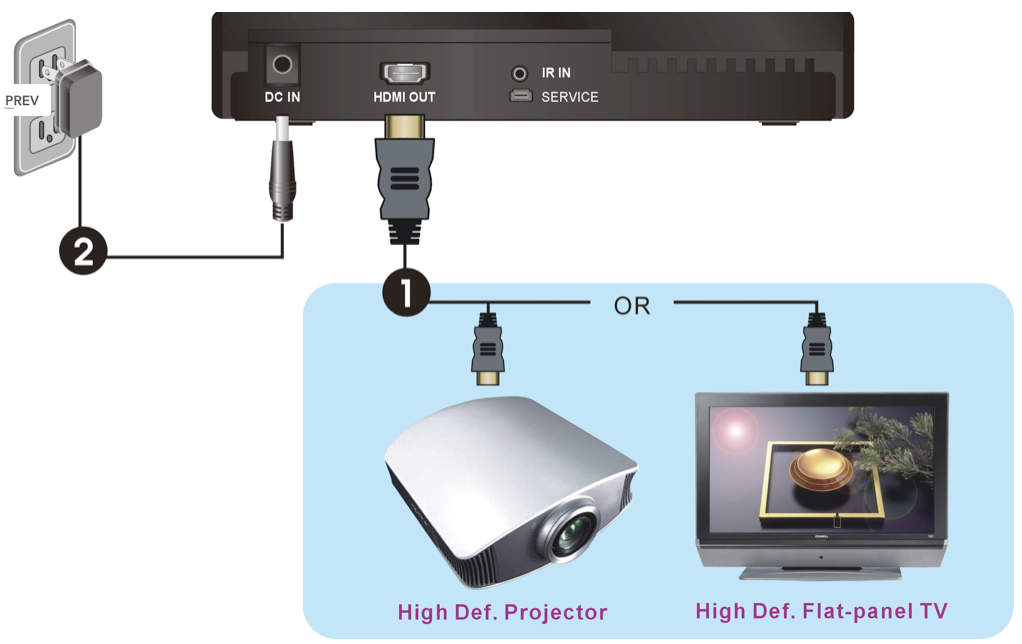 Once the units are connected and powered on, the first thing that will be noticed on both units are a couple of LEDs that indicate power, connection state and mode. The LEDs located on and near the power button can be quite bright and could be a distraction depending on unit placement and if they are operated in a dim environment.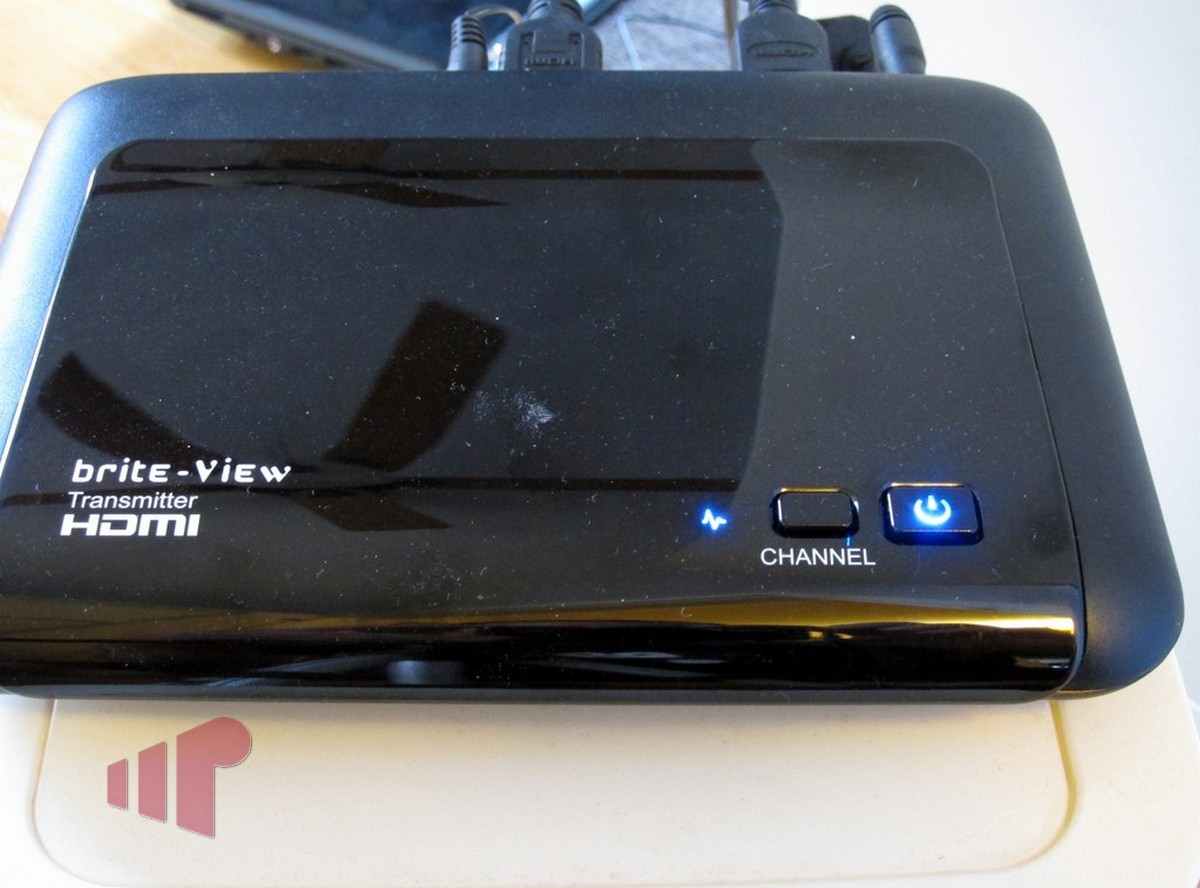 The units can each be powered on with the included remote or using the power button, however both units must be powered on individually. The receiving unit can be placed in standby by itself or if the transmitter is also placed in standby. The transmitter has two standby states: one that allows the Loop-thru HDMI port to operate but uses more power or one that disables the loop-thru HDMI port. It would have been ideal if brite-View had included an option to also place the transmitter into one of its two standby modes when placing the receiver into standby. Additionally, an option for the transmitter and receiver to enter a standby state after a timeout period where no source exists at the transmitter input would be appreciated.
So long as there is an adequate signal, the units should connect within 80 seconds according to the brite-View manual. In testing, the time for the units to connect and video to be displayed was consistently about 20 seconds. When the units connect (or the info button on the included IR remote is pressed), an on-screen display appears briefly depicting the signal strength indicated by bars and the video timing.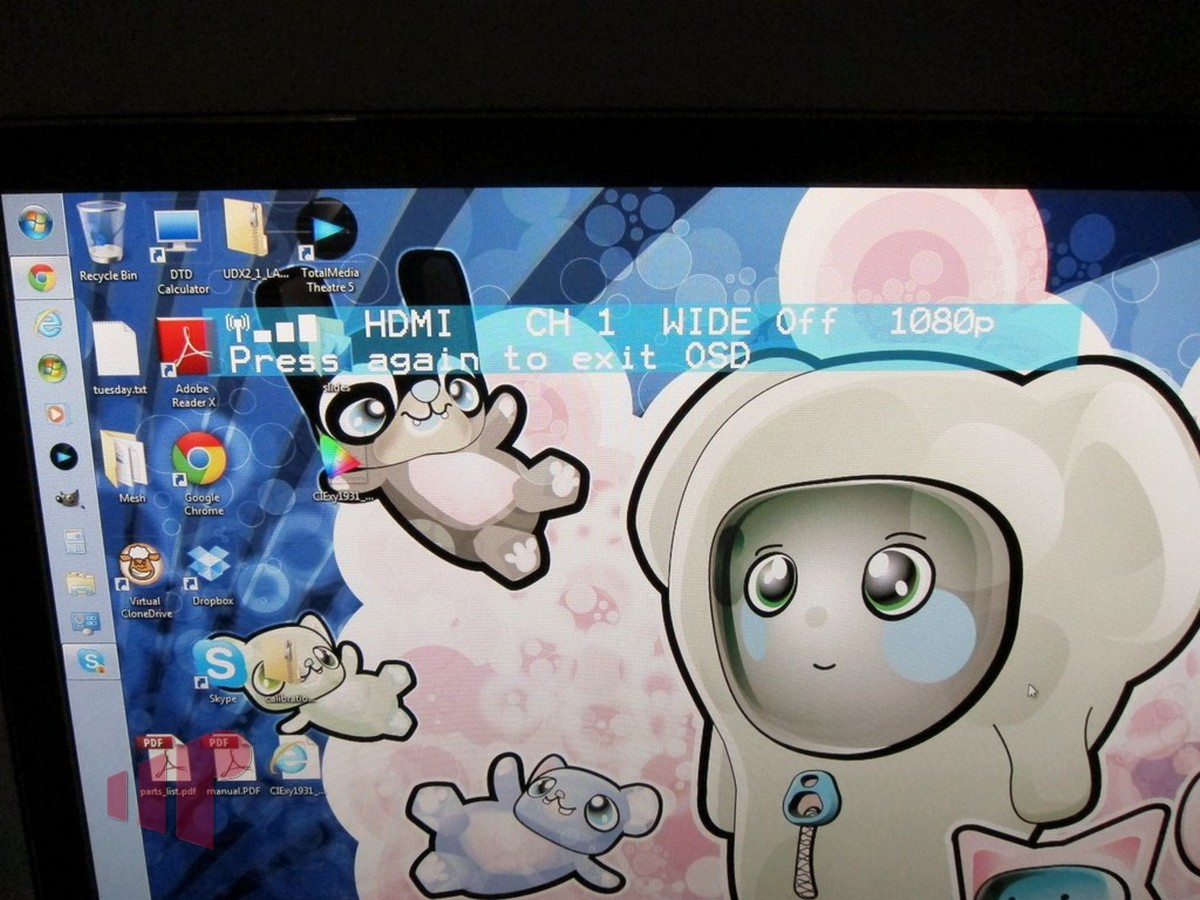 Once connected, the Air SyncHD kit provided an identical experience to connecting the source device and display directly with an HDMI cable. Video levels and 2CH 48kHz PCM audio pass-through worked perfectly. Unfortunately, I do not yet have an HDMI device capable of receiving multi-channel LPCM or HD audio (to be remedied soon) so this went untested. Video up to 1080p/60 and blu-ray playback with HDCP worked without issue. The system does not support 3D Blu-ray playback nor does brite-View claim this to be supported.
IR remote signals relayed from the receiver to the transmitter worked flawlessly. The included IR sensor was able to receive IR signals even at severe angles. The IR blaster frequency can be changed from the default 47kHz frequency using the included IR remote though it was not necessary during the review.
Perhaps an even more impressive feat is that brite-View managed to pull off the wireless HDMI and IR transmission with virtually no lag. Whatever lag there is in the system was not perceivable even when using a laptop as a source device. See for yourself.
When connecting a device to the transmitter's loop-thru HDMI port, the resolution being transmitted wirelessly must be equal. For example, it is not possible to simultaneously connect a 720p display to the loop-through port and send 1080p video wirelessly. In this case a resolution supported by both display/receiving devices must be used. This is to be expected though as the device cannot scale the video signal. Note that the loop-thru port can be connected to a non-active HDMI device and the limitation will not apply.
One unfortunate problem was observed with the loop-thru HDMI port: HDMI-CEC is not passed through. Fortunately, HDMI-CEC works perfectly via wireless. The HDMI-CEC testing was performed with a Blu-ray player connected to the transmitter and an HDMI-CEC capable display connected to the loop-thru or receiver and observing whether the display could see the BD player as well as whether turning the player on or off states resulted in the display changing state.
brite-View utilizes Wireless Home Digital Interface technology commonly denoted WHDI and is careful to note that the transmission distance of up to 66' for 1080p is line-of-sight (LOS). The 5GHz spectrum that the Air SyncHD kit operates in can be attenuated when traveling through obstructions such as walls, furniture, etc. Thus, it is expected that the clear LOS distance specified by brite-View will decrease as more obstructions are placed in between the transmitter and receiver.
A typical home theater installation might locate the transmitter and receiver in separate rooms inside cabinets. This scenario was tested with an approximate distance of 11'. The wireless signal had to travel through two wood cabinets and two walls. In this configuration, the units could not make a reliable connection even in the more forgiving "WIDE" mode (controlled by included IR remote) which drops video quality to 1080i in exchange for 100' maximum LOS distance. However, when one of the units was placed on top of the cabinet, the units connected reliably.
The largest open space with clear LOS that could be tested placed approximately 17' between the units. The AirSync HD kit had no problems handling this distance.
Power Usage
| | |
| --- | --- |
| Condition | Power (watts) |
| Transmitter, On, 1080p/60 | 13 |
| Transmitter, Standby, Loop-thru On | 2.2 |
| Transmitter, Standby, Loop-thru Off | 0.4 |
| Receiver, On, 1080p/60 | 9.2 |
| Receiver, Standby | 0.4 |
Conclusion
I must admit I was skeptical of the brite-View claims of lag-free, uncompressed 1080p/60 wireless video, audio and IR transmission. After reviewing the product, color me impressed. Sure there are a few complaints, but these are mostly insignificant considering that the product delivers on its main objectives. The loop-thru video timing limitation should be noted and considered before purchasing in the case of different display timings required at the transmitter and receiver simultaneously though even a cabled solution using an HDMI port multiplier would be similarly hampered.
In the right situation, the Air SyncHD kit is a great alternative to running cable. While running cable is generally the best solution, there are circumstances where it may be cost-prohibitive or impossible. An in-wall cable installation is almost certainly more time and effort than hooking up the brite-View kit. So long as the installation is flexible enough to allow for wireless LOS without too many obstructions, the Air SyncHD should be considered as a viable alternative to running cable.
Pros
Virtually no latency or lag
Picture quality identical to using HDMI cable
IR Remote and sensor operate at severe angles
Less installation time, effort and cost compared to in-wall cabling
Cons
HDMI-CEC does not work via loop-thru port
Remote has cheap appearance and feel
IR sensor lacks adhesive for anchoring in place
From off or standby condition, video will take longer to display than when cabled directly
Consumes more power than a cabled solution
Thanks to brite-View for supplying the review sample. The Air SyncHD transmission kit can currently be purchased at Amazon.com.