Intel DG45ID mATX Motherboard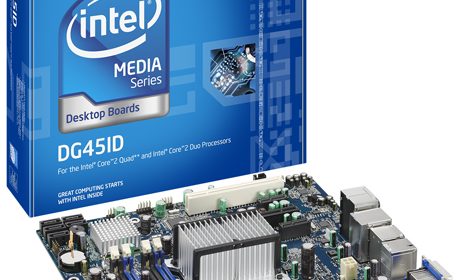 Intel DG45ID mATX Motherboard

Intel has always been known for developing some of the most stable motherboards to accompany their processors. With the DG45ID introduction they offered a solution for HTPC enthusiasts who desired a full featured board with stability as a focus yet the special needs an HTPC motherboard needs–including small form factor, HDMI and DVI video and 7.1 LPCM audio over HDMI as well. When initially released the board was hurt by driver issues which have since been resolved, so we thought we would take an in-depth look at a board which still today looks like it could be a solid solution for your HTPC systems–and just around $100.
Introduction
I have to admit that Intel did not immediately come to mind when I
started planning a new IGP based HTPC; with several solutions on the
market at the time it would have been really easy to grab something
from Nvidia and ATI. While there are very valid reasons for choosing
something based on either of those platforms, it would have been a
mistake to ignore Intel's contender in this space. As mentioned in the article preview, the DG45ID is not exactly a new motherboard having been released late last year. However, initial reviews were a bit harsh on the board as it sufferred from some growing pains with its driver in certain scenarios. Time has passed however, and Intel has gradually improved driver revisions to the point that we felt the board deserved another look as possibly being your next HTPC motherboard.
Looking at
the WinSAT score for the DG45ID for Vista and 7, it's immediately clear
that it is not going to be a gaming powerhouse. To be fair to this review, WinSAT is a rather irrelevant scoreboard but is something Microsoft has established that people are familiar with in regards to how "fast" their systems are. Of course, this is an HTPC-specific review so our main focus will be on performance and quality within a home theater environment rather than just gaming benchmarks.

Windows Vista WinSAT Score
Windows WinSAT Score
WinSAT
is a great way to get a baseline for a PC's performance as a general
purpose device; what's not clear from the numbers however, is how well
the
DG45ID and the GMA4500HD graphics processor will perform in your next
HTPC.
A Look at the Hardware
The first thing I noticed about this board when reviewing the specs and layout is
that it is doesn't have IDE, Floppy (FDD), or PS2 connectors (i.e.
legacy free) on the board. Whether this is a good thing can be
debated, but it's certainly something that should be noted. Legacy
support adds cost and complexity to a board, removing support for these
devices makes the layout simpler and should increase stability. Of
course if you're planning to incorporate an older component like an IDE
hard drive, or PS2 keyboard into the build this probably isn't the
board for you.
Before going further, let's take a look at the board details:
MicroATX (9.6" x 9.6" or 243.84mm x 243.84mm)
Four DDR2 DIMM sockets, 800/668 MHz RAM up to 8 GB
Gigabit Ethernet (82567LF)
5 SATA and 1 ESATA (I/O panel) 3.0Gb/s AHCI & RAID 0/1/5/10 supported
6 USB on the back panel, and 6 USB headers
2 Firewire (1 I/O panel & 1 header)
CIR
1 x16 PCIe, 2 x1 PCIe, 1 PCI
HDMI w/ 8 channel LPCM, and optical SPDIF (I/O panel) via IDT 92HD73E
DVI-I, and VGA support (w/ included, but undocumented and special DVI->VGA adapter)
Socket 775 (Quad and Dual core CPU support)
Intel Graphics XMA4500 Chipset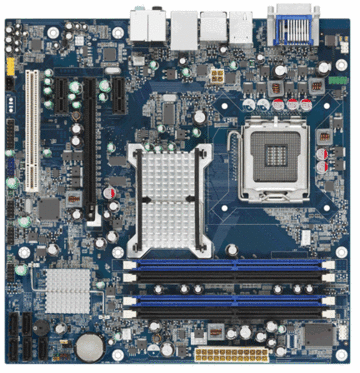 Configured System:
CPU: E5200
RAM: ADATA 2GB 1.8v DDR2 PC6400 (800 MHz)
PSU: Antec Earthwatts 380
HD: Hitachi 250GB SATA

Except for a very minor niggle with the
location of the 4 pin power connector, I found the board's layout to be
very well thought out. Intel left plenty of room around the main areas
of interaction (CPU, RAM, SATA) so it's easy to mount the HSF, add RAM,
drives, and manage the front panel connections. Unlike some boards
with headers between the expansion slots, USB and firewire headers are
located along the edge of the board making cable management much easier
and enabling better airflow between the PCI[e] slots. The northbridge
which includes the graphics engine is located in the middle of the
board and fitted with a large passive heatsink.
The board's
SATA connectors can be configured as IDE or AHCI. Generally AHCI is
the better option, as it supports NCQ and hot swapping drives to save a
reboot when using the ESATA connector. Unfortunately this is an
all-or-nothing setting on the DG45ID, so if your optical drive doesn't
play nice on AHCI you'll have loose the feature, get another one or go
the USB key route for the OS install.
Hardware Continued
Intel BIOS's tend to
be pretty simple, and the DG45ID is no exception. Only the basics are
covered in most areas; the one exception to that is the memory timings
section, but you should resist any temptation to mess with those. Several months
ago when I picked this board up, it wasn't as well known exactly how
quirky it was with RAM. I had some older performance DDR2 800 from
before SPD really worked correctly (or maybe it was just wrong ;)), so
it wasn't unexpected (i.e. happened with every other board I'd used it
in before) when Windows wouldn't load completely with default
settings. Easy enough, go into the BIOS and flip off "Auto" and select
the correct numbers; well I must have gotten something wrong because
after rebooting it wouldn't POST.
On every other board I have
ever worked with you just need to find the clear CMOS button (or
jumper) and short it to make all the user error go away; unfortunately there is no easy way to do that on this board. The manual suggests
taking out the battery, waiting 24 hours, then sprinkling the blood of
a 24 1/2 day old chicken on the SATA controllers. I didn't have a
chicken handy so after the 24 hours passed and it still didn't work,
figured it was easier to fill out the RMA form and mail it in. It's
worth noting that unlike every other motherboard vendor that I've
gotten the chance to experience a RMA with (learn from breaking is my
motto) it wasn't actually that bad. I had the board back in five days
(instead of the usually 1-2 months), and was much more careful about
what I touched in the BIOS after that 😉
Instead of risking a
repeat, I ended up picking up some "value" DDR2 800 while the board was
away and it worked perfectly using the "Auto" setting. For what it's worth, the
general consensus in the AVS thread on this board echoes my experience; go with the value RAM and skip the higher end chips.
We
can't talk about the hardware and not mention the included CIR headers;
great innovation and complete failure in execution. When I selected
this board, the prospect of integrated, internal header for an IR
remote (there's a blaster too) on the motherboard was a nice bonus
versus some of the other IGPs. The problem is that as an end user you
can't actually buy it anywhere; there was one vendor but shortly after
I picked up the board the CIR module went from "back ordered" to MIA on
the site. USB based remotes aren't a bad solution, but something
integrated into the case makes for a much cleaner HT experience.
I've
found the DG45ID to be the most stable board I've ever used on Vista
and 7. This is the first board I've been unable to coax out a BSOD
(don't worry, I'll keep trying), everything just works. Ironically the
only driver stability issue that I've experienced was during the workup
for this review, where the board failed to wake from standby correctly
and required a reset to get going again. I was able to reproduce the
issue on Vista and 7, and eventually tracked it down to the 14.4 Proset
(NIC) drivers, fortunately uninstalling the driver fixed the issue
right away so the impact was limited.
Good standby support is
an essential part of a quality HTPC experience so it's important to
note that the DG45ID does not display a indicator that it is in
standby; the system appears off. For me, this is a big plus; I refuse to
buy ASUS boards for my HTPC because the power LED blinks in S3. Also,
when resuming from standby the average time to desktop is around 5
seconds in Windows 7 (Vista is slightly slower) making it the fastest
system I've tested.
Now that we've covered the basics, let's get to the interesting part – how does it handle your content.
Picture and Video Quality
Before looking at the specifics lets take a moment to look at a screenshot of a colorspace test pattern.
| | |
| --- | --- |
| | |
| DG45ID connected via VGA | DG45ID connected via HDMI |
See
the difference? If you don't, it's because there isn't one – and
that's perfect. What's notable here is that the DG45ID is the only video
card that presents the 16-235 range correctly out of the box on every
video connector. The benefit being that black is black and white
is white, instead of dark grey and antique white no matter what it's
plugged into, and you don't need to spend hours pouring over online forum threads trying
to figure out how to hack up the registry to make it look right. Thank
you Intel!
Where the video driver is good, the included TV Wizard
should be avoided. I think the application is intended to make it
easier to connect up to a TV or AVR, but consistently fails to choose
the correct resolution for both. Selecting the correct size and
refresh rate isn't a difficult task for the HTPC community so most of
us would probably skip this by default; the tragedy is that those
who struggle with the task will probably use this and end up running
with sub-optimal values.
When the DG45ID first came out there
were some reports of HDCP issues when connected to a repeater (AVR).
I've never experienced the issue personally, but to ensure completeness
when examining Blu-ray (BD) playback Cyberlink's Power DVD 7.3 (LG
BD/HD DVD version) and 9 (retail) as well as ArcSoft's Total Media
Theater (TMT) 2 (HD PVR bundled) and 3 (retail) applications were all
tested connected through an AVR to a TV over HDMI. With the exception
of TMT2, which to be fair as a bundled application doesn't actually
support BD playback (but will play BDMV), all the players performed
exceptionally with the board. While there were some subtle differences between them,
most disappeared when viewed at a normal distance from the screen (>
5"). All of the players were able to utilize hardware acceleration
with CPU utilization on H.264 content running between 2-8%, and VC-1 a
slightly higher 5%-10% on the E5200.
Picture quality was tested
against an ATI 4650 (Catalyst 9.4) by watching a ten minute sequence
from a BD disc, switching inputs on
the AVR to watch the same sequence on the other card using the same
software player, then repeating with another sequence from another
disc. The quality was noticeably better on the G45, especially in
darker scenes where some of the finer detail was lost on the ATI card.

Intel
was the first IGP with multi-channel LPCM support with their G965
chipset, so it's not surprising that the DG45ID also has the feature.
Bitstreaming HD audio is unfortunately not supported, but as there is
little actual difference between it and properly decoded LPCM the only
noticeable benefit would be reduced CPU utilization, and therefore less
heat to dissipate during playback. So when it comes to BD, it's easy
to say that the DG45ID is the best HTPC solution I have ever seen.
We're
not just interested in BD playback though, so it's important to take a
look at how individual decoders perform on the system with the
different types of content found on a well stocked HTPC.
Picture Quality Continued
In
the past it was possible to rely on the filters included in application
like PDVD and TMT for video playback, but the most recent revisions
have changed that. So in addition to looking at leveraging filters
from older versions (PDVD 7.3 and TMT2) of those applications, we'll
also examine what is available as open source (OSS) or free software.
I used a combination of GraphStudio
and SageTV to test each filter as a video decoder. For those unfamiliar with it, GraphStudio is a simple GUI for building playback graphs (what
applications like SageTV, Media Center, etc. use to play a video), it's
a great way to test out basic functionality but is limited to only the
basic features a filter provides; so while interesting, it's possible
to get slightly different results in a more full featured application.
For the most part, if something works in GraphStudio with no
configuration, it can be made to work just as well in another
application. Using SageTV as the final test bed was a no brainer for me,
because that's what I use for everything except BD playback.
For
the most part it's hard to go wrong with the MPEG2 decoder from PDVD,
Microsoft (Vista & 7), MPC-HC or AVIVO. If you are using Windows Media
Center, the included decoder will (and should) be used. I found that the
AVIVO one works slightly better in SageTV with recorded TV content mostly
because it has the best closed caption support compared to the other
options.
Looking at DVD playback the MS decoder provides the
best experience for Windows Media Center users. Inside of SageTV I've found that
the PDVD decoder has slightly better picture quality against the MS
decoder; but really only noticeable when comparing side by side. The
AVIVO and MPC-HC filters can support DVD only by adding the MPC-HC
DeCSS filter into the mix. With the MS decoder providing such a solid
experience I didn't feel the need to include these filters in the test,
as it is a more complex configuration with little tangible payoff.
The
Microsoft (Windows 7 only), PDVD and TMT h.264 decoders all produce good results with
progressive content. The MS decoder is slightly less efficient
decoding 1080p, using 6-10% CPU compared to the ArcSoft (2-5%) and
Cyberlink (2-7%) decoders. I found picture quality to be about the
same with Cyberlink and ArcSoft, where the MS decoder was a little
soft, but still very acceptable. The ArcSoft decoder seems to handle
SD interlaced content a little better than the others, but all three
have serious stuttering issues with 1080i 29.97fps captured by the Hauppauge HD PVR tuner.
When hardware decoding (DXVA2) is disabled the problem disappears, and
I was not able to reproduce this issue with 1080i MPEG2 (ATSC)
content. It's impossible for me to say definitively if the problem is
with the graphics driver or decoders, but as it is consistently broken
independent of container and filter I suspect that the underlying issue
is with the video driver. MissingRemote has notified Intel of these results
and they are investigating closer; hopefully the problem is minor and
can be be addressed quickly. I've only been able to reproduce the
issue with 1080i HD PVR content so at least the impact is very limited. If you
have an HD PVR there are a couple workarounds available; assuming your
CPU can handle software decoding (which the E5200 can) one option is
to disable DXVA2 in the decoder, also because many HD PVR users lock
the output format at the STB (Set top box) to increase stability, choosing a
progressive format (i.e. 720p) is also an option.
For H.264
content in MKV and M2TS containers, the MPC-HC Video Decoder is also a
workable option. It should be noted that only very recent builds (AntiPack and the official SVN build)
support hardware acceleration on the DG45ID board. The implementation is DXVA2
specific so only Vista and 7 will get the benefit. It is not perfect
however, with some glitches during playback, but is functional and
getting better.
Both TMT and PDVD include VC-1 decoders that
support HWA on the DG45ID. While both decoders work very well when used
in their intended applications, only the ArcSoft decoder works properly
outside. To further complicate the issue each will only connect to the
corresponding splitter; and neither works with OSS/FS splitters like
the MPC-HC or Haali (MKV) which both present VC-1 using the WVC1 type
expected by the OOTB Windows Media Video decoder (VC-1 is WMV HD). The
good thing in all this is that even the E5200 has plenty of go to
handle VC-1 so it's not a blocking issue; but software decoding is much
less energy efficent which translates directly into more heat that will
need to be dissipated. In simple terms this means that any VC-1
content is best left (or muxed) in a M2TS or TS container and split
with the ArcSoft MPEG demuxer included in TMT2.
Intel recently announced their MediaSDK,
which provides a much easier path to interacting with the DG45ID's custom
DXVA2 hardware, and signaled clearly their intent to work closely with
the OSS community. So hopefully it won't be too much longer until we
can enjoy full HWA solutions for h.264 and VC-1 on the G45 (and future
Intel graphics solutions) for all containers.
Unfortunately I
can't include myself in the group of those with the need for 24p
support (Panasonic, if you're listening I'd be more than happy to redo
this part of the review with one of those sleek V10s; 54" preferred

),
but I'd like to touch briefly on the issue. To test this I compared
the output of the DG45ID against an ATI 4650 both set to output 24Hz. In
this mode the results were mostly the same, but neither was as good as
when the video card did the pull-down. Either my TV's pull-down method
isn't as good as the PC, or there was something flawed in the
methodology.
Below are some screen caps from the ReClock renderer, which reports refresh rate, during the test.
| | |
| --- | --- |
| | |
| ATI 4650 @24Hz | G45 @24Hz |
In addition to the video tests we wanted to cover some of the features of the audio card as well. One
interesting thing that I discovered when messing around with ReClock,
is that while the IDT audio chip supports 24 bit audio, it does not
seem to be implemented.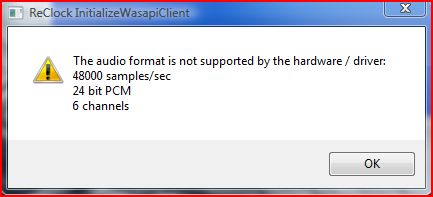 To
determine if it was a multi-channel issue I re-tested with a 24 bit
stereo sample, and it displayed the same behavior. It is possible that
this is an issue with ReClock, but I suspect the most likely culprit is
the audio driver. While I point this out for completeness, it's
important to note that both PDVD and TMT output audio using 16 bit
samples, and more importantly I doubt anyone that has consumer level
audio equipment would even hear the difference between 16 and 24 bit
samples (I certainly can't). So just a minor nitpick with very limited
effect in the real world.
Conclusion
No modern review would be complete without some power usage numbers.
| | |
| --- | --- |
| State | Watts |
| Soft Off (S5) | 5 |
| Hibernate (S4) | 5 |
| Standby (S3) | 6-10 |
| Idle | 46 |
| Full Load | 70-72 |
| VC-1 Software Decoding (60-70% CPU) | 65-68 |
| VC-1 Hardware Decoding (6-8% CPU) | 48-52 |
| H.264 Hardware Decoding (2-5% CPU) | 48-53 |
Looking at the numbers, we can see quite clearly
that the DG45ID when paired with a 65 watt CPU has an impressively low
power draw. While it would have a hard time competing with an Atom-based PC, it provides an excellent base for those that require more
processing power in their HTPC. In real terms, it means that a very
quiet HTPC with plenty of power is very attainable. The test system
relies only on the stock HSF (heatsink) from Intel, and one additional low RPM 60mm case fan;
producing a system that is inaudible from any reasonable distance.
There is some hard drive noise when the system is under load, but that
could be mitigated with an SSD or laptop drive. Both of which should
also reduce power usage, so I'd be very interested to see how they
would impact the power draw; on the other side it would be nice to see
how one of the low power quad core processors would impact the numbers
as well.
As you've probably figured out by now I'm a fan; while I
expected the DG45ID to be solid, I was not expecting to like it as much
as I do. It has an excellent combination of stability, low power, and
easy cooling topped off with excellent audio features and the best
video quality I've seen from a PC.
Pro:

Best Blu-ray (and HD DVD) playback I've seen
8 Channel LPCM audio over HDMI
Excellent picture quality
Amazing Stability
Easy to keep cool and quiet
Affordable at only $100 these days
mATX small form factor allows fit in lots of smaller enclosures
Con:

No hardware accelerated free/OSS/MKV VC-1 decoder
Standby issues with latest Proset drivers
TV Wizard inaccurately stating optimal resolutions
16 bit audio support although it appears 24 bit capable
1080i Hauppauge HD PVR stuttering issues with HWA decoding enabled
CiR on-board is great, but lack of any compatible end-user hardware