Webguide 4: Your Content… Anywhere

Ever since the first MCE release, users have always requested the ability to remotely control the recordings & other facets of their Media Centers. Since the first version of MCE, Webguide has existed to provide that feature (and now much more) to users everywhere. I'll be reviewing the complete, pay-for version of Webguide. The free version is strictly limited to the Television functions, as in being able to schedule & manage your TV recordings. By unlocking the pay-for versions, you're able to stream recorded TV, view your pictures, music, videos and more. Check out the features and see if it's worth the price of admission.
Configuration
INSTALLATION & CONFIGURATION
Installation of Webguide couldn't be easier. After the standard installation, you're prompted by a configuration window to tweak your options & setup your users. The setup is a little more advanced than some might prefer with options like Port Numbers, Network, and Localization. Not a problem for myself, but I wouldn't want my parents trying this on their own as they could probably mess it up more than anything. I'd love to see a wizard option that just guides a user through everything, even if it's the default, and then only allow the advanced settings if you so choose to view/modify. Nonetheless, the setup is quite detailed and effective for those who don't mind the advanced terminology.
| | |
| --- | --- |
| | |
| Main screen of the configuration. | General Configuration settings, where you can adjust how the guide will be displayed, as well as enabling the remote control feature of it. |
| | |
| --- | --- |
| | |
| Create users to have access & limit what they're allowed to do. | Adjust your network port settings. |
| | |
| --- | --- |
| | |
| Setup your folders to share media, including streaming recorded TV. | Localization settings supports a number of other languages. |
Vista Sidebar Gadget
VISTA SIDEBAR GADGET
One of the newest features implemented for Webguide is a gadget for the Windows Vista sidebar, which basically allows you to control your MCE system without being at it. The beauty of the gadget, is that it can be installed on any Vista box & control your MCE system, whether you're at work or home.
Installing the Gadget is as simple as going to www.asciiexpress.com and clicking on the Gadget link. You're prompted if you'd like to install it directly, and then it'll go right in your sidebar.
| | |
| --- | --- |
| | |
| Downloading from the website. | Automatic, simple installation. |
Once installed, the gadget looks very slick. Even with the small space available, it's very easy to read. If you want to see more, you can unattach it from the sidebar & view a larger version. Some of the features are kind of difficult to use in this method, but the whole point is for ease of access, which it does it's job.
| | |
| --- | --- |
| | |
| Added to the sidebar. | Here's a closeup of the guide in your sidebar. |
| | |
| --- | --- |
| | |
| Click on a TV show, and see more information as well as be able to record the show directly. | Here's a look at the Search feature & results. There is a little record icon if you've scheduled it (don't judge me) |
| | |
| --- | --- |
| | |
| Here's a look at the recorded TV. | …and a larger version with slightly more info. |
| | |
| --- | --- |
| | |
| Scheduled recordings. | And here's the options screen. |
Using WebGuide 4
Using Webguide 4
So you've seen how easy it is to use Webguide through the sidebar gadget, but what if A) You're not using Vista, B) You hate Sidebar, or C) You just want more? Well, luckily, the original method of using Webguide still exists…through your browser! Webguide4 is fully compatible with IE6, 7 or Firefox…heck, basically any web browser. And it works cross-platform, for example, my Webguide is installed on a Vista box, but these screenshots are from an XP system.
If you're trying to access Webguide within your home network, say for streaming TV to a laptop, then you merely type the Webguide address. In my case, the computer name is 'ShadyMG' and the port I setup in the configuration was 3882, so for me I just type "//ShadyMG:3882" in my browser and am greeted with the login screen.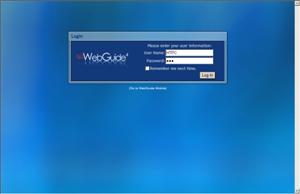 Login Screen
As you can see, the interface is SUPER slick. Doug has done a great job working with his designers to make this feel like a sexy application. It's not an exact replica of MCE, and I don't mind that one bit. I love the look & feel of it, and it's very easy to follow. If you're familiar with Media Center itself, then you should have no problems finding your way around Webguide, as it stays true to Media Center itself.
| | |
| --- | --- |
| | |
| Main home screen. | Guide & TV Program info. |
Streaming television is definitely one of the greatest features of the pay version of Webguide, and probably the number one reason to buy the full version. With so many people hungry for 'Softsled' (the Microsoft codename for a software-based Media Center extender), Webguide's ability to stream LiveTV–besides being the only program of its kind–is incredibly easy to use & effective. You can adjust your streaming settings, depending on your network upload speeds. The quality of the streaming within my wireless home network was wonderful and easy to watch. I didn't have any problems with lagging or choppiness, on a standard 802.11g network.
| | |
| --- | --- |
| | |
| Streaming TV settings. | Buffering & streaming shows within your browser. |
| | |
| --- | --- |
| | |
| Guide with program recording. | RecordedTV Show recording you can modify. |
| | |
| --- | --- |
| | |
| Editing the recorded show settings. | Other showings of the program. |
| | |
| --- | --- |
| | |
| From the guide, you can filter by Movie or Sports | …or Recommended, which shows the most recorded shows |
| | |
| --- | --- |
| | |
| You can also filter the guide to only view certain categories. | Search function needs a little work. Here's the results for Lost…where, oddly enough, Lost is not a top result. |
| | |
| --- | --- |
| | |
| Scheduled recordings. | Add a custom recording. |
| | |
| --- | --- |
| | |
| View your picture library, and download the full resolution. | Music collection, sortvia alphabetical & by album or artist. |
| | |
| --- | --- |
| | |
| Video collection. | Top right dots allows you to view settings. |
| | |
| --- | --- |
| | |
| From Settings, you can adjust user permissions directly… | As well as view the amount of space used. Oddly enough, Advanced takes you Home. |
Using Webguide4 couldn't be easier. Those familiar with Media Center will have no problems using it and will be pleased with it's speed & abilities. I was dissapointed with its search abilities though, but in all honesty, I don't use that feature much anyways.
Remote Control Add-In
Remote Control Add-In
One of the coolest features, especially for any users with Pocket PC's or other small mobile devices with Wi-Fi, is the Remote Control add-in feature. It allows you to control your MCE directly from the Webguide interface. Probably more useful on the mobile version of Webguide than on the full desktop version, the remote control feature works exactly as it should.
| | |
| --- | --- |
| | |
| Remote control interface buttons. | With Remote Control enabled, you'll see the "Watch on TV" button which will change the channel directly on your MCE system. |
| | |
| --- | --- |
| | |
| The remote control works on all of Webguide's features, including your Picture Library. | Here's what happened on the MCE afterwards. |
The remote control feature works great, but I see more use for it on the music end than on the TV portion. I could see it being much easier to control your MCE at a party via this interface than having to take all the time to go through the music on the MCE interface. I'm sure there's plenty of other uses, but that's the main thing that jumps to my head.
Webguide4 Mobile
Webguide4 Mobile
The mobile capabilities of Webguide4 are fantastic, especially if you've got a fast enough cell phone provider. Then you can stream your television, videos, etc. directly from your MCE to your mobile device anywhere in the world, in the palm of your hand. I don't have one of those devices, so I couldn't tell you how well it performs, but given the performance and ease of use of the main application I tend to think the mobile version would work quite well.
| | |
| --- | --- |
| | |
| Webguide4 Mobile Login screen. | Simple options to where you want to go. |
| | |
| --- | --- |
| | |
| TV Guide Listings. | Recorded TV |
| | |
| --- | --- |
| | |
| Stream a program to your mobile device. | See upcoming scheduled recordings. |
| | |
| --- | --- |
| | |
| View & Stream your music. | Remote control your MCE via your mobile device. |
I wish I had a mobile device I could test this out on, but it seemed to be well designed and should be easy to read on a smaller screen.
Top List
A little known feature Doug sneaked on his website is his "Top List" listing–a feature on his website which shows what users in certain countries are recording. While not quite as effective as TiVo's similar feature, being strictly based on number of users, having more Webguide users would help make the list more relevant. But for what it's worth, it's neat to see what people are watching, not only in your country, but in others as well. Just thought I'd have to mention it in the review.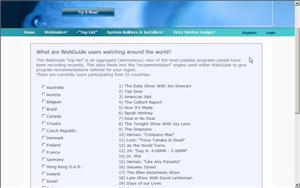 Conclusion
I've got to admit, I've been a fan and user of Doug Berrett's Webguide ever since it was first released years ago. With other programs out there such as MSN's Remote Record and Orb, it could have been easy to drop the project or just keep the features minimum. But that's just not Doug's style. Throughout the years, he's actively participated & listened to the Media Center community & provided the features they craved. The improvements have been obvious and this latest version of Webguide is far & away the most comprehensive to date.
Using it couldn't be easier for any Media Center user, as the interface stays true to the nature of MCE. Every part & function is right where you would expect it to be, and secondary menus are what you would expect. It's completely functional in both XP MCE as well as Vista MCE.
Being a software application, it is not completely without flaw. The search feature is not the most accurate, where typing in "Lost" did not yield the actual show of that same name in the top 5 search results. If there's a secret to being able to search just the title, it should be a bit more obvious to users. Also, I've got a fairly large music collection, and was a little surprised by how long the Music section took to load. But to be fair, it takes MCE even longer. My only other gripe is Doug's own fault for constantly improving his software. Webguide needs an "Update" button in it's interface, which would allow you to update to the latest version of Webguide without being at that computer or even needing to do anything.
The one feature I've begged for (and might be coming in future versions) is the ability to bypass firewalls. Basically, if you do not have access to your firewall/router, then you will not be able to use Webguide outside your network. I'd love to see the ability as there is in its 2 competitors where no router settings are even required, as the program can automatically bypass it through the web. Hopefully I won't have to wait long for this feature coming soon.
Pros
Easy to use
Free Version very capable
Extras in pay-for version extremely affordable
Nice, Clean interface
Excellent support forums
Softsled (MCE Extender) Capabilities
Interacts flawlessly with MCE
Recommended recordings
Sidebar gadget free
Cons
Poor search capabilities
Slow music loading
Updated versions require full installation

Overall, I can't say enough good things about Webguide. There's a free 15-day trial at Doug's website, http://www.asciiexpress.com , which will allow you access to the full capabilities of Webguide4 to decide if you want to stick with the limited free version, or unlock the pay-for features. More than fair, and more than worth the price if you'll use those features.
I give Webguide4 by Doug Berrett, 5 out of 5 remotes. Keep up the great work Doug!