D-Link Gaming Router with StreamBoost Technology Now Shipping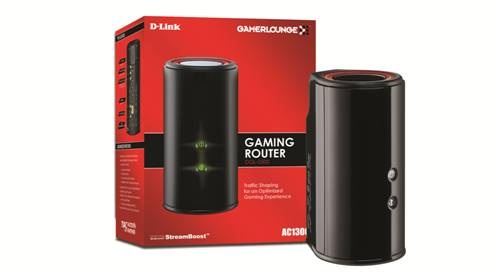 Even though I would prefer a more wall-mountable chassis, I remember being very impressed by this router and the StreamBoost technology back at CES. Besides the typical things we expect from a modern high-end router (Gigabit switch, AC, etc.) it also offers dynamic traffic shaping to so things like video streaming or gaming take priority over less time sensitive protocols like FTP or Bittorrent. $200 isn't cheap for a wireless router, but I've often found that you get what you pay for with networking technology. Of course we'll have to see how it holds up in the real world, so I'm going to be watching the reviews closely to see how it plays out.
Lastly, it looks like they are giving away a bunch of these. Just click through to the product page for the details. Full PR on the next page.
D-Link Systems, Inc. Fountain Valley, Calif. – Aug. 1, 2013

Who:               D-Link, the global leader in connectivity for home, small business, mid- to large-sized enterprise environments, and service providers.

What:              D-Link today announced its Gaming Router with Qualcomm® StreamBoost™ technology* (DGL-5500) is available and shipping.

Where:            The D-Link Gaming Router (DGL-5500) is now available with an MSRP of $199.99 throughout D-Link's vast network of e-tail outlets in the United States, including amazon.com, newegg.com, TigerDirect.com, and direct at www.dlink.com.

Why:               The D-Link Gaming Router offers AC1300 wireless speeds with unique traffic shaping and bandwidth management coupled with four gigabit Ethernet ports to deliver the ultimate in gaming performance, media streaming and network control. Using Qualcomm StreamBoost technology, the router delivers a robust connected experience to users of all devices on a home network by intelligently managing and shaping traffic, and giving each device and application the priority and bandwidth required for optimal performance. The intuitive StreamBoost interface allows gamers to view all connected devices on a home network, as well as the applications they are using and the real-time bandwidth usage of each.

*Qualcomm VIVE and Qualcomm StreamBoost are products of Qualcomm Atheros

About D-Link

D-Link is the global leader in connectivity for home, small business, mid- to large-sized enterprise environments, and service providers. An award-winning designer, developer, and manufacturer, D-Link implements and supports unified network solutions that integrate capabilities in switching, wireless, broadband, storage, IP Surveillance, and cloud-based network management. For more information visit www.dlink.com, or connect with D-Link on Facebook (www.facebook.com/dlink) and Twitter (www.twitter.com/dlink).

# # #