Roku and 3M Team Up on Streaming Projector for Streaming Stick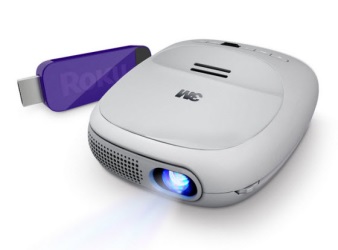 One of the more intriguing media streamers to come out this year is the Roku Streaming Stick. The Roku Streaming Stick is a media streamer designed to be plugged into the MHL port on your TV or other device, and indeed we have already seen some Insignia TVs sporting the Roku Ready logo that Roku has come up with for certified devices, but the goal has always been to expand the Roku Streaming Stick into other consumer electronics. The first official non-TV device is a projector from 3M, the 3M Streaming Projector. The 3M Streaming Projector will start shipping in a couple of weeks for $299 and includes the Roku Streaming Stick. Only 2″ tall and less than 4.5″ in length and width, the Streaming Stick actually looks pretty big next to this projector. 3M is selling the Streaming Projector as a portable family movie device, touting the Roku Streaming Stick's Wi-FI and the projector's 2 hour and 45 minute battery as the solution for bringing epic movie watching to any room or backyard. Of course, with a lumens rating of only 60W, you better make sure that room or yard get very dark.
The Roku Streaming Stick plugs into an MHL port (looks like HDMI but actually powers and commands the Streaming Stick) on Roku Ready® consumer electronics devices, bringing Roku to a range of new products. Today, I'm pleased to unveil the first product of its kind–the 3M Streaming Projector powered by the Roku Streaming Stick.