WWE Doubles Down on Hulu Plus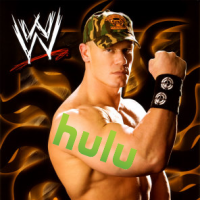 Few types of content bring in the 13-24 male demographic quite as consistently as professional wrestling, and in the world of pro wrestling, the WWE is the brand that rules the ring. Generations of young American males have grown out of professional wrestling, unaware that the "sport" continued with a new audience. The WWE is hoping to bring some of that perennial cachet online by signing an exclusive deal with Hulu to bring WWE programming to Hulu Plus the day after it airs on various cable networks. The WWE has made archive material available through Hulu for a while, but this deal marks a major push for the WWE into digital distribution. It's also reasonable to assume Hulu is looking forward to being a part of that push, particularly given the large video game console cross-over audience the company can look forward to tapping into.
Beginning today, subscribers of Hulu's paid service will be able to watch WWE's roster of shows that currently includes WWE's "Monday Night Raw," "Friday Night SmackDown," "WWE NXT," "WWE Superstars," "WWE Main Event" and "WWE en Espanol." Deal could eventually include "WWE Saturday Morning Slam," which recently began airing on the CW's new Vortexx-branded kids programming block, produced by Saban Brands.