Syabas Announces Popcorn Hour A-400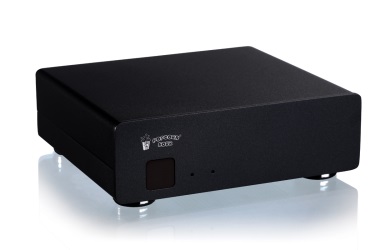 Syabas has announced the newest addition to their family of Popcorn Hour A-series media streamers with the unveiling of the A-400. The Popcorn Hour A-400 is powered by the Sigma Designs SMP8911, a dual-core SoC running at 800Mhz, along with 512MB of RAM. The new Sigma Designs chip is no slouch and should assist the A-400 in making its mark. In a case of good news-bad news, the A-400 adds Blu-Ray 3D ISO support, but loses the full Blu-Ray menu functionality that the A-300 was supposed to offer, which probably means no Blu-Ray disc drive-toting C-400 on the horizon. The Popcorn Hour A-400 will be housed in an aluminum case and will include HDMI 1.4 outputs, eSATA, USB 3.0, an SD card reader, and a quick dock for quickly adding and removing a 2.5″ or 3.5″ hard drive. It should be available worldwide by November for $249 or €289.
If you're a streamer who shuns plastic disks and their ilk, but still wants 3D, there's good news:Syabashas announced the Popcorn Hour A-400 network media player. Thanks to a dual-core video processor, the box can mulch through 3D Blu-ray content (ripped, presumably), while also supporting studio-level features like detail enhancement and debanding.