Sony Unveils 84-Inch 4K TV, Scheduled for Release Later This Year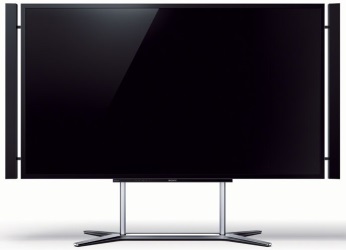 At 84″, the Sony XBR-84X900 is large enough to be impressive in its own right, but making the set even more intiguing is the fact it is a 4K television. With a native resolution of 3840X2160, the XBR-84X900 offers double the number of pixels along both the horizontal and vertical axes as compared to a standard 1080p HDTV. The TV also incorporates a 50 watt virtual surround sound speaker system, WiFi networking connectivity for the Smart TV functionality, passive 3D, and Simulview gaming support for single screen 2-player gaming with the PS3. Sony is planning on releasing the monster television later this year. Pricing details are not available yet, but expect the price tag to be as daunting as the number of pixels on the screen. On a side note, the announcement of the XBR-84X900 is the first time I have noticed a reference to QFHD or "quad full high definition" for describing a 4K TV. I had expected UHDTV, or "ultra high definition television" to take hold.
In addition to the usual networked "smart TV" features, the massive XBR-84X900 set incorporates "proprietary upscaling technology," which Sony claimed will "ensure that every frame looks clear and crisp, with a 4K resolution regardless of the content source." We're highly suspicious of those claims, but native 1080p content should scale well since QFHD is essentially "pixel doubling" of 1920×1080.