LG Announces Smart TV Game Portal, Expands Smart TV Alliance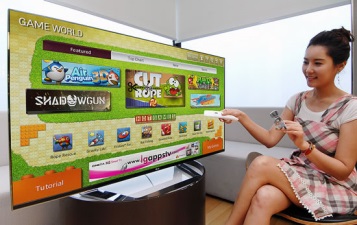 LG continues to make waves in the Smart TV arena. Earlier this week, the company announced their new Smart TV game portal called Game World. Game World will provide a central app interface for purchasing and launching free and premium games on LG Smart TVs. LG is planning on limiting the selection of games in Game World to family friendly and casual games, some of which are being designed exclusively for LG and the LG Magic Remote motion sensing remote control. In addition, some of the games will be available in 3D.
LG will initially offer games in the action, adventure, arcade, puzzle, RPG, shooter, simulation, sports, and strategy categories. The company didn't mention any specific titles in its announcement, though the promo image suggests Air Penguin 3D, Shadowgun, Cut the Rope, Plants & Zombies, and Frisbee Forever will be part of the lineup.
While Game World will be exclusive to LG Smart TVs, the company is continuing to work on developing cross-platform Smart TV apps as part of the Smart TV Alliance that LG and Philips parent company, TP Vision, announced a couple of months ago. Since that initial announcement, the Smart TV Alliance has added a number of members, including Toshiba and Qualcomm. The first cross-platform apps from Accuweather and Vilanoise, along with other apps being developed by Obigo, should be available for Smart TV Alliance member sets in September. This initial wave of apps are being developed with the Alliance SDK 1.0, but the SDK 2.0 specifications are expected to be published to the Smart TV Alliance website later this year in anticpation of being used to support 2013 sets from Alliance members. Admittedly, even combined, the manufacturers represented by the Smart TV Alliance do not add up to a single Samsung, but it seems like the Smart TV Alliance has gotten off to a good start.
The Smart TV Alliance consisting of LG and TP Vision (Philips) is still hammering away at its dream of platform-independent Smart TV apps, and as IFA 2012 gets under way it has a few new announcements. After promising Japanese manufacturers would join back in June it has welcomed Toshiba to the fold, as well as other supporters like Qualcomm, Mstar, Onigo and YuMe.