Xbox Live TV Round Two: YouTube, MSNBC, Verizon FiOS TV, and More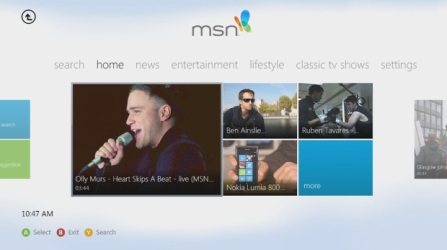 When the Metro-inspired Xbox 360 UI launched last week, it brought along only a handful of the anticipated Xbox Live TV apps. Well, Microsoft has unleashed a bumper crop of new TV apps today, and judging by the number of regional apps launching, there's something for just about everyone. The Verizon FiOS TV app caused a stir when it was announced, and even though it is more limited than what AT&T is running with U-verse on the Xbox, it should be a welcome addition for FiOS subscribers. Folks in Canada get a similar app for Rogers. MSN and MSNBC are now on tap depending on what part of the world you live in. Finally, we also have the YouTube app launching with the broadest reach, reportedly accessible in 24 countries, though you have to figure out which countries yourself. There are still apps in the wings, but at least now we should have enough content providers to get a sense of whether Microsoft is on track. Just playing with a few of the apps, one also gets the sense that Media Center enthusiasts are getting a sneak peek of what Windows 8 will be bringing to the big screen next year as well.
For those of you in the Xbox 360 Dashboard preview program, some of this stuff is old hat, but for the rest of us today's launch of a dozen new applications on the Dashboard is allbrand new. Beyond the addition of YouTube, FiOS TV, and TMZ (can we give that one back?), Xbox 360 users get access to MSNBC content, iHeartRadio (actual radio!), and a handful of other services starting today.