Synology DS212 NAS Reviewed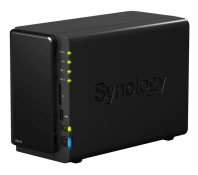 Synology has staked out a strong position in the high-end consumer NAS market. The DS212 NAS is a 2-bay NAS device capable of supporting up to 6TB of storage. Like most Synology units it's a slick looking little box. I especially like the inclusion of an SD card. I've wished several times that I had my WHS box set up so that I could simply drop my camera card in the server and transfer the pictures on board directly to the Pictures share. Especially when the family is piling in the car for an outing and I'm scrambling to find a card with space left for new photos.
The Synology DS212 NAS simply plugs in to your home broadband router and features two drive bays to store the hard drives you'll be using over the network. With the ability to install up to 6TB of storage (2x 3TB HDD), the possibilities are endless.