Verizon Planning Media Servers for FiOS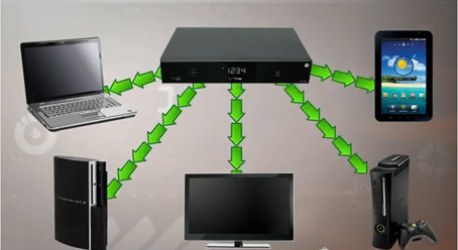 Verizon FiOS appears set to get out of the set top box business, and into the media server business. Verizon has released a video detailing how they plan on eliminating traditional set top boxes to improve energy efficiency and offer better service by moving to a whole-house DVR/media server conjoined to small extender devices or devices that the consumer already owns such as the Xbox 360. Even with a projected launch of late 2012, this is an ambitious plan that seems to be more progressive than we are used to seeing from service providers. The video is a bit light on technical details and specifications, but I am sure we will learn more as Verizon solidifies their plans. For instance, perhaps we will learn more about how the PS3 and TVs mentioned in the video will be able to connect to the Verizon FiOS media server.
Yet, I'd expect at least three tuners and 1TB of storage (compared to the DirecTV HR34's 5 tuners, 1TB or the TiVo Elite's 4 tuners, 2TB). Of course, along with such a beefy centralized unit Verizon will introduce small form factor extenders to sprinkle throughout one's home.