LG Bringing 55″ OLED HDTV to CES 2012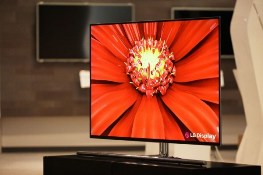 Few home theater technologies have the power to induce weak knees and a whole lot of unsightly drool better than OLED panels. It has been held up as the holy grail of HDTV panel technologies; the black levels of plasma, the brightness of LCD, unparalleled thinness, and minuscule power consumption. Reality hasn't quite kept up with the hype, but that doesn't make LG's announcement that they will be showing off a 55″ OLED HDTV at CES next month any less exciting. Showing a large OLED TV at CES is still a far cry from selling one at retail, and an even farther cry from selling one at a a price point that the average consumer can stomach, but it is an indication the the manufacturing processes are maturing. After all, it wasn't that long ago that CE manufacturers were racing to show of the largest plasma or LCD TV they could build, even if such TVs were too big to fit through the average front door. At least now the panel size race is pushing a new tech.
We only have a few more days left until the festivities truly kick off at CES 2012 in Las Vegas, but LG has already tipped its hand with a press release promising the "world's largest" OLED panel for the show. We've seen smaller screens from LG before and it had already promised a 55-inch OLED HDTV for mid-2012, so this news is just another sign the company is ready to take its technology mainstream.