Apple Adds "Complete My Season Pass" to iTunes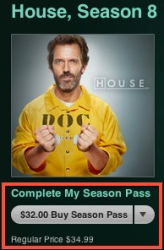 Here's one from the "I can't believe they shipped without this feature" file. Apple has offered Season Pass for a while now. With Season Pass, one can purchase an entire season of a show, usually at a discount over buying every individual episode, which is fine if you know that you want to pony up for an entire season up front. However, if you purchase an individual episode, you are going to repurchase that episode when you decide to spring for the Season Pass.
Apple has launched a new "Complete my Season Pass" feature that allows you to purchase a Season Pass of a show to which you already own individual episodes, and the amount you spent on the individual episodes will automatically be deducted from your Season Pass price. Apple has offered a similar feature for music albums for years, and this seems like a natural extension of that concept. If nothing else, it reduces the risk of trying out a new TV series.
Just like the "Complete My Album" feature on the music side of iTunes, Complete My Season Pass will reduce the price of the full season pass by the amount that you've already paid for individual episodes, allowing you to round out the season without buying doubles.