'Spartacus' Star Andy Whitfield Passes Away at 39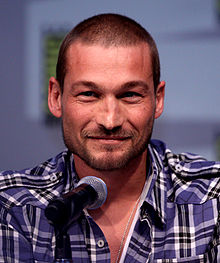 It is with a very heavy heart that I write this news post. Many of us were undoubtedly hoping that no news was good news, but, as it turns out, that was not to be the case. Yesterday, as innumerable people spent the 10th Anniversary of 9/11 recalling the losses suffered on that fateful day, another loss was being mourned by the family and friends of Andy Whitfield.
"On a beautiful sunny Sydney spring morning, surrounded by his family, in the arms of his loving wife, our beautiful young warrior Andy Whitfield lost his 18 month battle with lymphoma cancer," Whitfield's wife Vashti said in a statement. "He passed peacefully surrounded by love. Thank you to all his fans whose love and support have help carry him to this point. He will be remembered as the inspiring, courageous and gentle man, father and husband he was."
While there is no way for a simple fan to understand what his family is enduring, I hope they can have some solace in knowing that his amazing portrayal as the ever-determined Spartacus brought joy and smiles to the lives of many households. Many of us had never heard of the man prior to this role and I feel humbled and proud to have been able to experience the life he brought to Spartacus. Much like Spartacus himself, Andy will live on through his family and friends, his interviews and, of course, his acting. Those who knew him or were touched by him will ensure that he lives on.
There are many possible ways to interpret this line from the final episode of Spartacus, but I will leave that to each of you to ponder:
I would have you at your best when we face each other.