SoundScience Halo 6 LED Bias HDTV Backlight Kit by Antec
When Philips first introduced their Ambilight technology for their television sets they were all the rage–fantastic concept that actually works to help minimize the strain on your eyes while watching the television, but who wants to buy a brand new set just for a cool technology. Luckily the folks at Antec have got you covered…sort of. The soundscience halo 6 LED bias lighting kit is designed for monitors up to 24" in size on your desk. So what does a website focused on home theaters do, we grabbed two of these from our friends at Antec and tested them on a 50" plasma television. Let's see how it matches up to the real deal.
SPECIFICATIONS
How much can be said about the specifications of a row of LED lights? Not much, but let's look anyways.
| | |
| --- | --- |
| LCD Monitor & Requirements: | Up to 24" in size placed against light colored wall; available USB port or powered USB hub |
| Certifications/Safety: | CE, RoHS |
| Cable Dimensions: | 4'3" / 1300 mm |
| Light Strip Dimensions: | 14.6" / 370 mm |
| Packaging Dimensions: | 5.9" (H) x 5.5" (W) x 0.6" (D) |
| Weight: | |
| Net Weight: | 1.0 oz / 28.3 g |
| Gross Weight: | 2.0 oz / 56.7 g |
| Product Warranty: | 2 years |
The dimensions are worth noting if only to be aware of the length available for the USB cable. The product is designed to fit horizontally on a monitor so it should not be a problem reaching with any monitor size under 24". Something else to note from the specs is the 2 year warranty.
Also of equal importance when it comes to ambient lighting in a theater environment is the operating temperature of the lights. The color temperature for the soundscience LED lights are approximately 5,500k. While it's a bit warmer than ideal, the lights should still provide a benefit since there is eye-strain relief with this around the screen. But it's important to note that a viewer's perception of color will be incorrect compared to a D65 light (D65 is the color of white that all video content is calibrated to).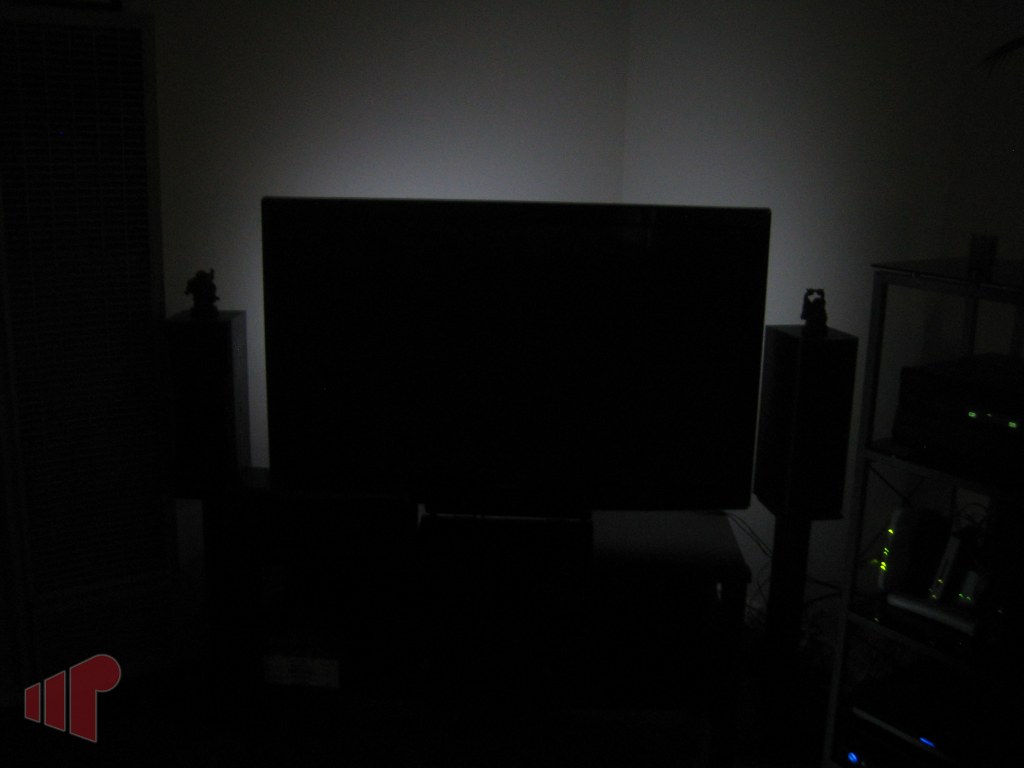 USAGE
When we decided to review Antec's soundscience halo 6 LED bias lighting kit we knew we would have a few challenges. First, given the size of LCDs and Plasmas in the size of a home theater, we knew that we would need at least two units to adequately illuminate the surface space. With an MSRP of only $12.95 it's not asking too much of an investment to afford two given how much everything else in your living room cost.
The other challenge would be powering the units which by default use a standard USB 1.0 connection. This is both good and bad for a number of reasons. It's great for PC users who would have this connected and often turn their computer off when done using it or TVs that have USB ports available. However, as a lot of us HTPC (Home Theater PC) users either don't use standby, or are forced to keep USB active so powering the lights simply means either always on or having to physically unplug the cable–there's no on or off switch on the lights. In a theater full of remotes and automation, that simply would not do.
Installation of the actual lights could not be simpler–simply remove the adhesive strip from the back of the lights, apply on the back of the television horizontally where you would like, preferably in the middle of the set. Make sure to be careful when installing as this is a one and done installation, so you will not want to be removing and re-adjusting the lights once applied. Then there's a top layer plastic meant to protect the lights which is also easily removed once installed. Finally you just need to route and connect the USB cable to get power to the lights.
I chose to use a standard USB to AC plug connector you would find standard with an iPhone or iPod charging kit since it's universal, affordable and I had several on hand. Since I want the two lights to always be in connection to each other I sought the services of a small 4-port USB hub and connected the two LED kits to it directly, then connected the hub to the USB-AC adapter, and voila, illumination! If you want to keep things simple I would recommend connecting the adapter to the port connected with your light switch for easy on-off as you walk into the room. Without a nearby light switch plug I was forced to get a bit creative and sought the services of a Intermatic Home Settings Wireless Z-Wave module. I directly connected the USB-AC adapter to the module and then went through the Harmony 890 software to properly configure it to the remote. Z-Wave is RF based technology that will allow the user to power the device on and off without direct line of sight –note that not all remotes support this. Once completed it was just a matter of button presses on the remote control to turn the LEDs on and off!
As you might expect the power draw with the LEDs is very minimal, generating 1 Watt of power draw combined for both units. When directly looking at the brights from the back of the set they are very bright. But that brightness is muzzled significantly when you are looking at the television from the front. The light surrounds the unit on all sides without making the room annoyingly lit. I found the amount to be very enjoyable and while there's no scientific evidence to prove it worked, I can say that the lighting is pleasant to view and makes programming look great, even in a pitch black environment.
The lighting works as advertised, but the soundscience halo 6 LED bias lighting kit is not a direct replacement for Philips Ambilight technology as it's lacking one item–the ability to adjust the color of the lights based on the programming on the TV. This is as expected since the lights connect via USB and would have no way of detecting what colors are on.
CONCLUSION
How much can really be said about the Antec soundscience halo 6 LED bias lighting kit–it's essentially a USB powered row of lights. According to the website the light color and temperature has been carefully balanced to achieve the best performance for viewing, and I think that's acceptable given that the lights were not overpowering even with two sets–they did not make the room overly bright at all. The target audience is definitely gamers (with a maximum size of monitor supported being 24") but we can see that the set works great when properly configured for us home theater folks. With an affordable price and simple installation, along with the long life of LED lights makes this an easy purchase if it's something you are considering. While it's not an exact replacement for Philips Ambilight technology, I found it a great step forward and makes watching TV a bit more relaxing on my eyes.
PROS:
Affordable MSRP
2 Year warranty
Flexible installation
Easier to watch extended periods of television
CONS:
No on/off switch
Need ~2 for 50"+ television sets
Cannot easily remove and reapply
Thanks to Antec for providing the review unit.