SilverStone Temjin TJ08-E Micro-ATX Chassis Reviewed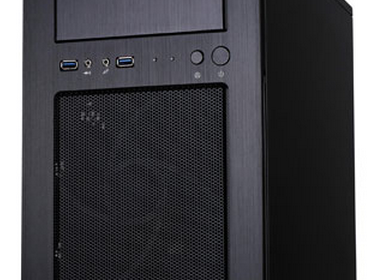 We learned from our recent HTPC chassis survey that a good number of you are using standard tower and desktop enclosures for your primary HTPC. If you've gone shopping for a Micro-ATX tower chassis, you'll quickly find that there are few decent options available that are modern, can fit one or two powerful GPUs, have adequate cooling and have small dimensions. Enter the sleek SilverStone Temjin TJ08-E which made its debut at CompuTex.
With the ability to house 13.25″ long expansion cards and a 150mm high CPU cooler along with four 3.5″ and one 2.5″ internal bays, two 5.25″ and one 3.5″ external bays, two USB 3.0 ports, a positive pressure cooling design with a 180mm fan, the fully-painted aluminum/steel chassis can accommodate a lot of systems. It is perhaps fairly routine sounding until the dimensions are studied. At 15.16″ x 8.27″ x 14.72″, the TJ08-E has a lot to offer for such a compact size.
Check out Anandtech's review of the innovative enclosure:
While vendors have been all too happy to send us larger enclosures (and we've been all too happy to receive them), our coverage of Mini-ITX and Micro-ATX cases has been a little lacking. That's why we're pleased today to present SilverStone's new Temjin TJ08-E. SilverStone's Temjin line has been a popular one, and with the TJ08-E mini tower they're confident they have a winner on their hands. It has the kind of clean exterior design we've been clamoring for more of, but can it perform?