Robopec Combines a Media Center PC with a … Robot Affectionicately Named Reeti!?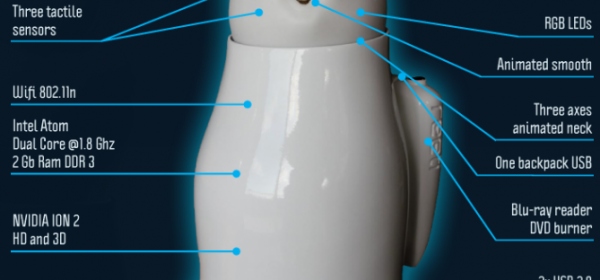 While the Kinect is great and all, it really lacks humanity. A French company, Robopec, has just the solution to that specific problem in a lovable little Robot/Media Center PC called Reeti who can even display emotions. Equipped with an Atom/ION2 platform, it might serve well as a secondary PC. Perhaps more interestingly, there is an API for developer's to exploit. Now, if Reeti only had legs and could get my tea, I'd never have to leave the couch.
An endless number of emotions

Reeti is able to carry out lots of emotions and expressions. Thanks to an application on your iPad and iPhone, you can create news ones, as many as you want. He owns three sensitive sensors and can react if you touch him. According to his moods, he can also have his cheeks colored.

A real media center PC

Because he's more than a simple robot, Reeti can be both a cleaver friend with his own behavior, and a multimedia tool. Indeed, on the first hand, he gets an Atom Dual Core 1.8Ghz processor, a 500Go HD,and all the classical connectics (Wifi, Ethernet, 5 ports USB3, HDMI) and on the other hand, he has a media center connectic, (coaxial output, optic fiber, Blu-Ray reader, DVD burner). Running with Ubuntu, he also gets all the office functionnalities of a home PC.

An authentic tool

Reeti is a real attractive presence, he'll become for you a true marketing trump and instrument. Pioneer in this field, he's a great support to teach, and thanks to the Urbi middleware, the developpment API and the pre-installed Open Source librairies, Reeti is a high platform for all developers.